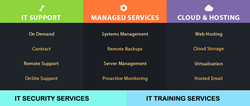 New service plans help customers in reducing costs of managing their business IT infrastructure, compliance, and security needs.
Princeton, NJ (PRWEB) May 29, 2014
Rapidsoft Systems, a leading outsourced software developer of mobile and web applications & IT service provider, announced the expansion of its IT support team. This will allow company to expand its service offering in the areas of service management, network monitoring, remote help desk, cloud software migration and IT security services.
The company has redesigned its TotalCare 360™ managed service plans geared towards small and medium businesses. TotalCare 360 managed services plans are designed for organizations that need comprehensive IT support but don't have the time, skill-set or the desire to carry the burden of managing an IT department. Total Care 360 plans include advanced services such as security audit and management, network management, backup management and disaster recovery planning.
In addition to the foundational support services of current managed services offerings, Rapidsoft Systems' Total Care service plans also include:

Onsite Restoration of Service
Proactive Network Monitoring
Disaster Recovery Planning
Security Updates to Ensure Security
Equipment Logistics and Asset Numbering
Regular Maintenance Status Reports
More information about Rapidsoft System' TotalCare 360™ plans can be found at: http://itservice.rapidsoftsystems.com.
Rapidsoft Systems' IT support services have been specifically designed for SMEs (small and medium entities) and deliver a cost-effective solution to meet most their support needs. Aside from many basic support services, each plan includes expert level advisory services, training, consulting, break-fix and everything that a large company's IT department would offer. A customer's systems are monitored and supported both remotely and locally 24/7 and problems are fixed before they can seriously affect the system.
"We're pleased to expand our Managed Services offering with the addition of TotalCare 360™ support plans to help our customers streamline operational costs associated with technology support, contract and inventory management," said Brijesh Kumar, Ph.D., COO and head of technologies. "This enhanced offering allows Rapidsoft Systems to deliver further business value and improved platform reliability, resulting in an increase in operational efficiency for our customers. New service plans help customers reduce costs of managing their business IT infrastructure, compliance, and security needs."
About RapidSoft Systems, Inc.
Rapidsoft Systems, Inc. (http://www.rapidsoftsystems.com) is a leading Outsourced & Offshore Software Product Development company with headquarter in the United States and product engineering centers in United States & India. It partners with technology companies and software-enabled businesses to help them bring quality software products to market through dedicated or on-demand offshore engineering teams. It has a subsidiary, Mobisoft Technologies (http://www.mobisofttechnologies.com) dedicated to mobile applications development located in Noida, India.
Rapidsoft Systems, Inc. has its main office in Princeton, NJ, USA, a US R&D Center in Mercerville NJ, and sales, support and development offices in Palo Alto, CA, USA, Dubai (UAE), and Noida (India).