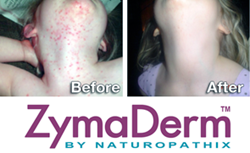 We look forward to bringing parents in Asia our simple and effective all natural molluscum treatment to avoid using expensive, painful, and usually ineffective treatments on their children.
Boise, ID (PRWEB) May 30, 2014
Naturopathix, Inc. appoints Taiwan's Teh Yuh Trading Company as its Asia distributor for ZymaDerm™ the most widely used painless, safe and inexpensive natural topical treatment for molluscum contagiosum In the United States.
The distribution agreement grew out of Briant Burke, MD, MS, founder and medical director of Naturopathix, participating in an Asia Trade Mission organized by Idaho Governor "Butch" Otter.
"Although ZymaDerm™ can be ordered online for shipping to Asia says Dr. Burke, "the new distribution agreement with Teh Yuh Trading seeks to attract drug stores throughout Asia to order and stock ZymaDerm™ for their local markets.
Many in Asia have been ordering ZymaDerm™ at Naturopathix.com, and through leading online retailers that include Drugstore.com, Amazon.com, Walgreens.com, Walmart.com and CVS.com
"We look forward to bringing parents in Asia our simple and effective all natural molluscum treatment to avoid using expensive, painful, and usually ineffective treatments on their children," continues Dr. Burke.
ZymaDerm™ is the most widely used painless and inexpensive natural treatment in the United States. Since its introduction in 2003, ZymaDerm™ has enabled over half a million people to quickly be rid of the unsightly and highly contagious molluscum skin bumps and reduce the change of spreading the infection.
Left untreated, the lesions often rapidly spread. It occurs most often on the face, neck, armpit, arms, and trunk. It may occur anywhere on the body, except the palms of the hands and soles of the feet.
Molluscum contagiosum in children has been more common than in adults. Children catch it when they come into contact with the skin of infected child or on a wet surface infected with the virus. It is a common infection throughout the world. In the US alone there are approximately 1- 2 million new cases each year.
ZymaDerm™ is backed up by clinical studies for the treatment of molluscum in and doctor recommended, a statement based on an independent follow up survey conducted by the School of Business at Boise State University involving 356 physicians nationwide over a 2 year period. Results showed that 92% of physicians rated ZymaDerm™ as highly effective or effective, and 86% now recommended ZymaDerm™ as their preferred treatment option (data on file).
While the skin virus had occurred primarily in younger children, it is now becoming epidemic among adults. ZymaDerm™ is as effective for adults as it is for children. It may be safely used on all body areas including the face and private areas.
Many leading dermatologists and pediatricians now replace invasive and typically painful treatments with this gentle, effective, natural treatment for their patients with molluscum contagiosum.
ABOUT ZYMADERM™
ZymaDerm™ is a patented blend of powerful all natural anti-viral plant-based compounds that transforms the treatment of molluscum contagiosum from expensive and often painful procedures, such as freezing, burning, or surgical removal of the lesions, to simply dabbing on a pleasant aromatic blend twice a day, usually for less than a month, until the lesions completely vanish. It is FDA approved as a homeopathic drug. Its ingredients are officially included in the Homeopathic Pharmacopeia of the United States as useful agents. The potency and level of purity of the ingredients in ZymaDerm™ meet the most stringent standards of excellence.
ABOUT NATUROPATHIX
Naturopathix, Inc. was founded in 2002 to develop novel plant based therapeutic treatments for the relief of common medical conditions. The company is led by Briant Burke, MD, MS, a practicing physician and distinguished medical research scientist with over 20 years of clinical experience treating patients and publishing clinical trials.