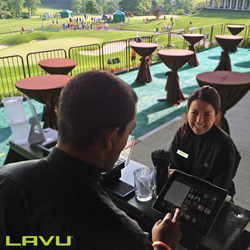 About 30,000 people a day will attend the event so it's a great opportunity to showcase how powerful and easy our POS system is to use.
Albuquerque, NM (PRWEB) May 29, 2014
LAVU Inc. is pleased to announce their debut as a hospitality technology provider for the PGA's 2014 Memorial Tournament. The mobile iPad POS from Lavu will be paired with the latest in "smart" technologies offered by industry leaders Epson and APG Cash Drawer to accommodate 200,000 golf fans and professionals at concession stands and shops.
Golfing legend Jack Nicklaus conceived and hosts the event scheduled this year for May 26 through June 1. Some of the game's biggest names including Bubba Watson, Phil Mickelson, Rory McIlroy, Adam Scott and fan favorite Ricky Fowler have committed to the tournament held at the renowned Muirfield Village Golf Club.
"We're very excited about working with Muirfield Village Golf Club at this Tournament," said Josh Green, CEO of Culinetwork, an Ohio-based specialist for LAVU. The POS app will be deployed on 20 iPads throughout the facility to improve food and beverage service to a crowd expected to top 200,000 during the seven-day event. According to Green, "About 30,000 people a day will attend the event, so it's a great opportunity to showcase how powerful and easy our POS system is to use."
As a team LAVU, APG Cash Drawer and tech giant Epson create an end-to-end "smart" system for managing a menu, order taking, table-side payment processing and many essential back-of-house functions. According to Mark Olson, president of APG, "We're honored to be included at such a prestigious event. This POS solution creates a seamless checkout experience regardless of the location — souvenir tent, Pro Shop or Club House."
In upgrading food and beverage service with LAVU's iPad POS system, Muirfield Village Golf Club will be among the first to host a PGA event using advanced mobile technology to improve the customers' dining experience. Learning to use the LAVU app is fast and simple. Green said he "can train the wait staff in about an hour, and then show senior management all the back-end tools like the sales reports, inventory management and customer database."
LAVU's POS technology has grown tremendously over the past several years. Its success has been attributed to the user-friendly integration of many tasks that were previously done manually and prone to errors. With the LAVU POS system, mobile order taking and payment processing is easy, fast and accurate. Real-time sales reports and inventory counts provide additional benefits for management. To date, thousands of licensed users in 85 countries around the world have deployed the LAVU POS technology in their operations.
Though Lavu iPad POS was originally developed for restaurants, bars, and quick serve businesses such as coffee shops and food trucks; niche feature sets have since been developed to accommodate other industries including gymnasiums, karting, and stadiums. To learn more about Lavu, visit http://www.lavu.com.
About Culinetwork
Culinetwork is a preferred certified Lavu Specialist in the Ohio region specializing in restaurant and hotel point of sale service, as well as creative solutions for major events like the PGA Tour. For consultation, visit http://www.culinetwork.com
About Lavu Inc.
Founded in Albuquerque, NM, and operating worldwide, Lavu Inc. began as a solution to common point of sale problems and restaurant industry issues. Lavu Inc. offers Lavu iPad POS as a full-featured point of sale software solution at a fair price. Through cloud computing, wireless mobility, and multi-touch devices, Lavu iPad POS redefines the entire approach to restaurant business management. For more information, visit http://www.lavu.com.