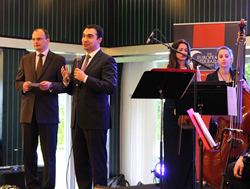 Today's Azerbaijan is strong economically and forms part of the family of nations.
Strasbourg, France (PRWEB UK) 29 May 2014
In commemoration of Azerbaijani Republic Day on 28 May – a national holiday in Azerbaijan – around 300 stakeholders, diplomats, Council of Europe staff members and representatives from the 47 member states attended a unique concert and reception at the Council of Europe in Strasbourg. Organised by the Brussels office of The European Azerbaijan Society (TEAS), this event also recognised the start of the inaugural Azerbaijani chairmanship of the Committee of Ministers of the Council of Europe.
Dr Sabina Rakcheyeva, Violinist and Cultural Advisor, TEAS, together with the London-based Deco Ensemble, entertained the audience with a vibrant range of works by the Argentine composer Astor Piazzolla, jazz-mugham pioneer Vagif Mustafazadeh and arrangements of Azerbaijani traditional pieces. Attendees also had the opportunity to experience an exhibition of Azerbaijani carpets, musical instruments and archaeological finds, organised by the Heydar Aliyev Foundation.
H.E. Ambassador Emin Eyyubov, Head of the Permanent Representation of the Republic of Azerbaijan to the Council of Europe, commented: "This year Azerbaijan is assuming the Chairmanship of the Committee of Ministers of the Council of Europe. However, tonight we are commemorating the achievements of the Azerbaijan Democratic Republic (ADR), founded in 1918. This lasted for 23 months, after which Azerbaijan became part of the Soviet Union for 70 years. The ADR elected the first constitutional government in the Muslim East.
"This officially secular, modern, European-modelled republic was extremely progressive. Achievements included introducing the voting franchise for all women, predating this development in the US, UK and other western nations. It also embodied the concepts of religious and ethnic tolerance that are still upheld today. Today's Azerbaijan is strong economically and forms part of the family of nations, and this Chairmanship is indicative of its current position in the international arena."
Gabriella Battaini-Dragoni, Deputy Secretary-General of the Council of Europe, recalled: "In the past, I was supervising the Cultural Sector of the Council of Europe, and have assisted with organising numerous conferences in Baku. This city has also played host to meetings of the Cultural Ambassadors from the Council of Europe, UNESCO and other organisations. These meetings have focused on international dialogue and co-operation.
"In Baku, I had the pleasure of seeing exhibitions of carpets, artifacts and ancient musical instruments, and I understand that Azerbaijan occupies a unique position at the crossroads of Europe and Asia. The art of Azerbaijan embodies the influence of all the many ethnic groups and nations who have lived on Azerbaijani territory. The culture of Azerbaijan is vibrant, diverse and in no way reduced by the geographical size of the country. It has much to show to the world and of which to be proud.
"Sites range from the Old City of Baku, with its rich architectural legacy, to the Stone Age archaeological sites in Gobustan, and the Fire Temple outside of Baku. Modern societies cannot exist if they are isolated from each other. The road to dialogue comes from understanding the differences between nations and societies and integrating with each other."
Dr Roman Huna, Head, TEAS Brussels, said: "Tonight we have brought something special from Azerbaijan to the Council of Europe. This is thanks to Dr Sabina Rakcheyeva, my colleague, a violinist from Azerbaijan who is also a cultural ambassador for the country. We have brought a rich and melodic Azerbaijani message full of peace, indicating the strong cultural heritage and tolerance of the country. The creation of the ADR in 1918 has been celebrated with Azerbaijani and international music, underlining this message of freedom, peace and tolerance."