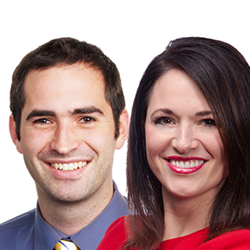 We hope to help people stay healthy.
Provo, Utah (PRWEB) May 29, 2014
For over 50 years, the Osmonds have been known for singing and family entertainment. Together, they have sold approximately 102 million records worldwide and received their star on the Hollywood Walk of Fame. But while some of their children have also made a career in entertainment, three Osmonds are making their mark in healthcare.
Dr. Gregory Osmond, a dermatopathologist at Harvard University, Dr. Jeremy Osmond, Director of Rehab at Orchard Park Rehab in Orem, Utah, and Dr. Amy Osmond Cook, Director of Provider Relations at North American Health Care, have joined forces with the Daily Herald, Provo City, FamilyShare, and Central Utah Clinic to educate Utah citizens about health care in a multimedia series called "Healthy Living." This series, which includes video interviews and accompanying articles featuring Central Utah Clinic physicians, is produced by Provo City and promoted by the Daily Herald, FamilyShare, Central Utah Clinic, and North American Health Care.
"We are excited to be able to work with these esteemed organizations to educate people about healthcare," Amy states. "Healthcare is changing so rapidly that it is important for patients to stay abreast of all of the many changes that affect them and their ability to receive the best possible care." Greg agrees: "Healthcare is advancing as well as changing, and it is a time to be cautious about your care but also optimistic about the many new technologies and treatments that are available." Jeremy sums it up well: "Through our series, we hope to help people stay healthy and make wise choices about their options when healthcare is necessary."
Healthy Living is promoted on Provo City's Channel 17, the Daily Herald, Central Utah Clinic's website, and Family Share (18 million social media subscribers). For more information about Healthy Living, please contact Amy Osmond Cook at 949-813-0182 or acook@nahci.com.