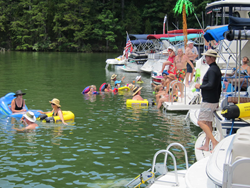 2014 Bliss Award winner as Happiest Community of the Year
Knoxville, Tennessee (PRWEB) May 30, 2014
Real Estate Scorecard salutes a season of fun in the sun underway in Eastern Tennessee after the official Blessing of the Fleet on April 26, 2014. For people living around 16,000 acre Tellico Lake, many of their activities revolve around the area's natural aquatic beauty. Whether you have a preference for boating, swimming or fishing, Tellico Village seated at the foot of the Great Smoky Mountains is a great place to relax and live the good life with the Tellico Cruising Club.
The good times will soon explode on the July 4th Independence Day as Tellico Village, one of the best places to retire in Tennessee. Rockin' the Docks is an annual Eastern Tennessee lake event. The Saturday, July 5th, event features a variety of activities for the entire family. Delicious food with live music by Pop Rox, RMS and Super Dave 5. The night will end with a great firework show choreographed to music over the lake.
Events like this are symbolic of life at Tellico Village, named Real Estate Scorecard's Bliss Award winner as the 2014 Happiest Community of the Year. The boating season kicks off during the last week of April with the Blessing of the Fleet.
A minister from the local Lutheran church delivered a specialized blessing – wishing the captains and crew a successful summer. The ancient custom of the Blessing of the Fleet can be traced back to Old World European fishing communities where God was publicly acknowledged and asked for a bountiful harvest and the safety of the men at sea.
Tradition, family and fun. That's what Tellico Village social clubs are all about.
Take the Tellico Cruising Club for example. Its mission is two-fold -- to promote safety and have fun. The club holds various boating safety courses taught throughout the year by Coast Guard auxiliary members. The classes cover everything from planning and preparation and what to do in case of an emergency.
But the heart of this master-planned community lies in its social functions. There are more than 400 members in the group who enjoy getting together to socialize. The Tellico Cruising Club is one of the community's clubs and its activities have grown to consist of at least one major event each month including cruises to lakeside restaurants, multi-day cruises, such as the annual Watts Bar Rendezvous, and dinner/dances, such as the annual Christmas Party.
Since the Cruising Club's inception, Saturday raft offs have always been a popular event. In 2004, the frequency of raft offs were expanded to every other Saturday, and in 2007, raft off frequency was expanded to every Saturday during the boating season. It is not unusual for 20 – 30 vessels to gather in a quiet cove to enjoy each other's company. In addition to Saturday raft offs during the boating season, the Club holds two major annual raft off events: a moonlight raft off and a circle raft off during the Great Island Festival at the Fort Loudoun State Historical Area.
Other highlights coming this summer include:
Island Time Raft Off - June 21st
Christmas in July Raft Off – July 12th
Godfather Raft off – August 2nd
Circle Raft Off (to Historic Fort Loudon) August 9th
Whitestone Cruise & Luncheon – September 9th
Fall River Cruise – October 11th
These are just some of the group's events throughout the year. Even if you're not a fan of cruising or water sports, Tellico Village is known as one of the best places to retire in Tennessee.
Tellico Village is just 31 miles southwest of Knoxville. It is also conveniently minutes away from two major highways, I-75 and I-50 providing residents with fast access to major cities like Nashville and Atlanta.
Whether folks are looking to cruise on Tellico Lake with the Happiest Community of the Year or spend free time on the back nine, there's a Tellico Village social club for everyone.
Discover what Tellico Village can offer by calling 888.287.0676.
About Real Estate Scorecard:
Real Estate Scorecard writes unbiased real estate reviews providing in-depth information about popular gated communities in Florida, Georgia, North Carolina, South Carolina and Tennessee, all in an effort to help people discover where to retire in the Southeast.
Website: http://realestatescorecard.com