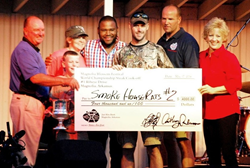 GrillGrates have become synonymous with perfectly grilled steaks.
Cartersville, GA (PRWEB) May 30, 2014
GrillGrate is excited to announce that all five money winners at this year's 25th Annual World Championship Steak Cook-Off grilled on GrillGrates.
The World Championship Steak Cook-off was held May 16-17th as part of the Magnolia Blossom Festival in Magnolia, Arkansas. Smokehouse Rats of Boyd, Texas won this year's contest, a $4000 check, and the Governor's Trophy.
"This is the fourth year in a row the winner has grilled on GrillGrates and the first time all five money winners used GrillGrates," said Barrett. "Even more exciting is the enthusiasm of the backyard griller who consistently share pictures and comments about grilling their best steak, too. GrillGrates have become synonymous with perfectly grilled steaks."
Steak grilling competitions have become a significant competitive sport with competitions paying sizable sums for that perfect steak. The SCA- The Steak Cook-Off Association was recently formed to help coordinate and standardize steak cook off events and judging. "Steak competitions are the next big thing in the world of grilling," according to Brad Barrett, President of GrillGrate LLC.
GrillGrates are a patented raised rail design that has a bottom with holes in it to drain fats and grease and allow smoky flavor to waft through to the grilled food. Interlocking panels either sit on top of the existing surface of a grill or replace it altogether. The bottom blocks flare-ups while the valleys keep juices sizzling and smoking just below the food. GrillGrates smooth out hot and cold spots and add an infrared element to the cook which adds to tenderness and juiciness. GrillGrates also deliver photo-worthy sear marks for both championship and backyard grillers.
About GrillGrate
GrillGrate LLC is based in Cartersville, GA. GrillGrates are manufactured in various lengths and shapes for all popular grills. GrillGrates improve the cooking performance of any grill, including gas grills, charcoal grills, kamado and pellet grills. GrillGrates are available at hardware, house-ware and outdoor retailers as well as at grillgrate.com. GrillGrates are proudly made in the USA. The GrateTool™ is made in China.