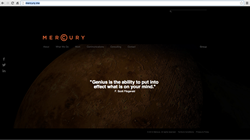 Mercury, a digital media company form Middle East, launches on mercury.me.
Podgorica, Montenegro (PRWEB) May 29, 2014
The .ME Registry is proud to announce the launch of Mercury.ME, a digital media company specializing in apps and a .ME Premium Domain Program success story.
Mercury.ME is a digital media company based in Beirut, Lebanon fusing technology and culture to create content that connects with people on a meaningful, human level. The company is focused on learning apps as well as delivering film, music and books to audiences all around the world.
Among the great apps this Middle Eastern company has launched is My Calendar, an interactive educational app that helps children learn their days, months, seasons and holidays in English, French and Arabic – in various dialects. Children can customize their daily calendars in any of the languages provided, as well as listen to and learn different pronunciations. They also launched Picture It, a social guessing game app that turns photos into puzzles. Users take a photo, send it to friends, give them a few hints and see if they can figure it out. Other Mercury.ME apps that have recently launched include: Kite Run, Now News, and Lotto Lab.
Jimmy Ghazal the Head of Digital Operations of Mercury.ME states: "As a digital content development company based in Beirut, we not only strive to be a regional magnet for all things innovation, but also to be a cultural reference in digital and mobile publishing, the repository of heritage and content from Lebanon and the Middle East. We create content for the digital platform that is contextually relevant, culturally meaningful, and that promotes our Middle Eastern heritage."
The team behind Mercury.ME are alumni of the .ME Premium Domain Program. The Premium Names Program was created to match premium .ME domains to the most relevant use by a business or startup. In this case, the team reviewing the application for Mercury.ME, found the perfect match. The .ME Registry CEO Predrag Lesic states: "The Mercury.ME team were a great fit for the .ME Premium Domain Program. They share our passion for education and cutting edge technology and allocating this premium name was a no brainer for us. We are very pleased to be able to help this talented team reach their goals."
Mercury Content is pushing the boundaries of innovation to produce and deliver the type of content people across the region want to read, interact, and watch. The products they create not only serve to promote the artists, writers, producers, and filmmakers of the region, but also serve to connect people to their heritage and values.
To learn more about the .ME Registry, the Premium Domain Program and many clever uses of the .ME domain go to http://www.Domain.ME.
About the .ME Registry:
.ME Registry (the d.b.a. of doMEn, d.o.o.) was chosen by the government of Montenegro to operate the new .ME domain name extension. .ME Registry partners include ME-net, GoDaddy and Afilias Limited. Me-Net is a Montenegrin registrar and its founders are leaders of the ICT sector in Montenegro, who among other things participated in a successful privatization of Montenegrin largest ISP. GoDaddy, the world's largest technology provider dedicated to small businesses, is the world's No. 1 domain name registrar. Afilias Limited is headquartered in Ireland and is a leading registry services provider, supporting more than 15 million domains worldwide.