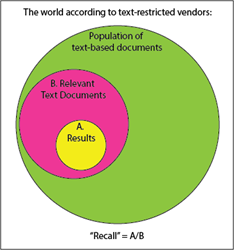 "Sometimes text-restricted systems are 100% right 20% of the time." John Martin
Memphis TN (PRWEB) May 29, 2014
John Martin, CEO and Founder of BeyondRecognition, LLC, ("BR") a Memphis-based provider of information governance technology to Fortune 500 companies, announced today that BR has proposed additional industry metrics in information governance and electronic discovery to highlight one of the primary limitations of text-based search and document classifications systems.
According to Martin, "Virtually all document search and classification technology used in electronic discovery is completely reliant on the presence of accurate textual representations of the documents being searched or classified. The Maximum Textual Vision or MTV ratio of those technologies indicates the proportion of documents in a collection with meaningful text. Companies with a high proportion of documents with either no text or poor quality text – the 'non-managed objects' – will have a low MTV ratio indicating that many of their documents cannot be searched or indexed, leaving them unmanaged by those technologies."
Martin also indicated, "We have suggested how the MTV ratio can be used to estimate how the recall rates claimed by text-restricted technologies may misstate true recall."
Further information about BR's proposed new metrics is available at blog post, Measuring Text Bias/Tunnel Vision in Content Search and ECM Systems.
About BeyondRecognition, LLC
BeyondRecognition ("BR") provides a suite of integrated information governance tools that help Fortune 500 companies consolidate paper and electronic documents, migrate documents to content management systems, and remediate file shares. BR's key technologies include the ability to organize content by grouping documents based on visual similarity – even native files, PDF's, and scanned documents can all be processed together. BR's visual coding then automates extracting data elements from each cluster. BR's clients enjoy rapid project start-up, and improved accuracy in coding or extracting data elements from documents, and they particularly appreciate finishing projects in months originally scheduled to take years.
For more information about BeyondRecognition, visit the BR website at http://www.BeyondRecognition.net, or contact Joe Howie, VP, Corporate Communications, at jhowie(at)beyondreognition(dot)net, or 918-894-6943.
You can also follow BR on Twitter @BeyondRecog or join the BeyondRecognition group on LinkedIn at http://www.linkedin.com/company/beyondrecognition.