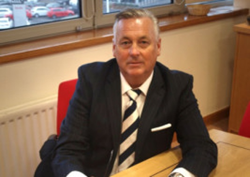 The GAME by Ronaldo is one of the most unique opportunities I have seen over the past number of years that has the ability to translate right across the globe.
Dubai (PRWEB UK) 30 May 2014
The GAME by Ronaldo, the five-a-side global football championship, supported and promoted by Cristiano Ronaldo, has just announced that Mike Farnan has joined the Advisory Board of the company, which is now actively seeking sponsorship opportunities for this novel football competition.
Mike Farnan is a leading international sports marketing executive. A pivotal figure in Manchester United's commercial success during the late 1990s, Mike has since held senior roles with Sheffield United, Sunderland and AC Parma. He currently advises a number of leading Federations and sport clubs on brand development and sponsorship and is also working with a number of corporates who invest and use sport to promote their brands.
Carlos Amaro, CEO of The GAME by Ronaldo, commented "The enthusiasm Mike showed from the first moment I introduced him to the project, and the way he understands the potential of this global championship, both in terms of the ability to connect with the worldwide community of soccer players and in terms of sponsorship opportunities, gives us the guarantee of a successful collaboration."
Mike Farnan commented, "This is a very exciting opportunity to work in a project with one of the most exciting personalities in world sport. The GAME by Ronaldo is one of the most unique opportunities I have seen over the past number of years that has the ability to translate right across the globe. It also provides an opportunity for corporates to engage with a very wide global audience which in turn will generate significant return of investment."
More information can be found on the following links:
Website
Promo Video