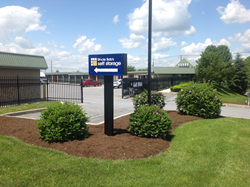 Mechanicsburg, PA (PRWEB) May 29, 2014
Uncle Bob's Self Storage began operating its fourth storage facility in the Harrisburg, PA market. The facility is located in the West Shore area at 4751 Westport Drive Mechanicsburg, PA, 17055.
The facility, owned by The Storing Crew and formerly operated as Space Mart, was one of the first to offer climate controlled storage in the Harrisburg area.
"We saw an opportunity to offer premium storage in the West Shore, where there is great demand for commercial and residential storage," said Jeff Grubb, owner of Space Mart Development Company. "Plus we love this area. It's the type of place where people don't need door alarms."
The facility is also committed to solar energy initiatives. The building features 180 solar panels that generate electricity on site. In 2013, the system generated more than 595,000 kilowatt hours of electricity which exceeded the needs of the storage facility. The excess electricity produced was sent back into the electric grid for use by other PP&L customers.
Uncle Bob's currently operates 30 facilities that are powered by solar arrays, thereby reducing the company's carbon footprint.
"Given the environmental benefits and the reduction in electricity costs, the positive effects are felt on multiple levels with stores like these," said Cliff Moir, Area Manager for Uncle Bob's Pennsylvania storage facilities.
The facility offers 594 storage units ranging in size from 5x5 to 10x30, including climate controlled options. The building features free Wi-Fi, electronic access and on-site surveillance.
Customers can learn more about the facility and reserve a space at unclebobs.com/Mechanicsburg-PA-storage/storage-unit-prices-UB833.cfm.
About Uncle Bob's Self Storage
Uncle Bob's Self Storage® is owned by Sovran Self Storage, Inc., (NYSE:SSS) a real estate investment trust (REIT) that acquires and manages self storage facilities. Uncle Bob's is one of the largest self storage companies in the United States with approximately 500 storage locations spread across 25 states. Uncle Bob's currently has four self storage locations in the Mechanicsburg area.