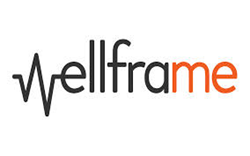 'Additionally, using mobile technology has allowed our staff to be more efficient and effective in their workflow and engagement with their patients,' said Karen LaFond, Nurse Manager of Cardiac Rehabilitation at South Shore Hospital.
Boston, MA (PRWEB) May 29, 2014
Wellframe, a Boston-based company that combines mobile devices and artificial intelligence to amplify caring relationships by engaging patients in personalized care plans, today announced the results of a clinical pilot, which was recently conducted among patients enrolled in cardiac rehab at South Shore Hospital with principal investigator from Brigham and Women's Hospital. Researchers observed high levels of patient retention and compliance with cardiac rehab care plans among those utilizing Wellframe's mobile platform.
Cardiac rehab is a validated clinical program that has been shown to reduce 5-year mortality by up to 25% or more among patients with coronary heart disease. Despite this benefit, currently less than 20% of patients who are eligible for cardiac rehab participate. Wellframe's mobile platform is designed to make proven programs - like cardiac rehab - more appealing and more accessible to patients, while making the same programs more efficient and scalable for the health system.
According to the published paper, the cardiac rehabilitation staff involved in the study reported that Wellframe had a positive impact on their ability to provide quality care to their patients. Clinicians reported that the Wellframe solution:

Increased the overall quality of cardiac rehab service
Helped lower barriers to patient participation in the program and allowed clinicians to serve patients otherwise unable to attend (as often), while reducing patient cancellation rates
Enhanced patient participation in rehab activities and increased accountability in activities at home
Provided clinicians with real-time insight into patient behavior and improved communication between visits and after graduation
Allowed clinicians to more proactively address higher-risk patients and intervene early with the aim of preventing complications and readmissions
"Taking a mobile-enabled approach to cardiac rehab has proven not only to be feasible, but also highly effective. This speaks to a much broader opportunity to use technology to extend clinical relationships to meet the goals of the accountable care," said Daniel E. Forman, MD, Geriatric Cardiologist and Medical Director of Cardiac Rehabilitation at Brigham and Women's Hospital. "The key to this particular approach was that the mobile platform was used to extend clinically effective and caring relationships, which met the emotional, as well as dynamic clinical needs of patients over a critical period of recovery. It also helped sustain healthful behaviors and patterns."
"By linking continuously with patients, our clinicians were better able to identify patients' concerns, and track their symptoms, activities and medication compliance in real time. That continuous connection resulted in better compliance by the patient and a better outcome for the patient," said Karen LaFond, Nurse Manager of Cardiac Rehabilitation at South Shore Hospital. "Additionally, using mobile technology has allowed our staff to be more efficient and effective in their workflow and engagement with their patients."
In addition to cardiac rehab, Wellframe is working with numerous other healthcare providers and health plans to deliver mobile-enabled care management programs to a variety of patient populations, ranging from diabetes to mental health, several of which the company expects to announce in the coming months. Wellframe is also working to secure the next round of funding having closed a $1.5 million seed round from leading entrepreneurs and investors this past April.
"We believe Wellframe's technology, which offers dynamic data-driven outcomes evaluation, will play an integral role in a full-circle of post-acute care management. While improving accessibility and outcomes in programs like cardiac rehab, it will help to maintain long-term relationships with patients by further evaluating their adherence to the therapeutic regimen," said Milena Adamian, MD General Partner at Azimuth Ventures and a cardiologist by training. "We're very pleased to be able to help accelerate Wellframe's initiatives and support them at this pivotal time."
To view the full results of the clinical pilot study, please visit http://journals.lww.com/jcrjournal/Abstract/publishahead/Utility_and_Efficacy_of_a_Sm.
About Wellframe
Wellframe is a Boston-based Health Technology company that combines mobile technology, artificial intelligence and human-centered process design to connect people and amplify care. Wellframe's Harvard and MIT trained team is supported by investors and advisers who are successful leaders in enterprise health and tech. Wellframe has completed successful clinical trials with top-tier academic medical centers and is partnering with leading risk bearing entities.
For more information on Wellframe, visit http://wellfra.me/.