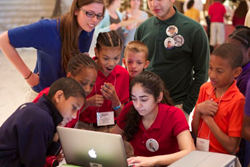 Hershey, PA (PRWEB) May 29, 2014
The fourth-grade class at Milton Hershey School® recently spent time learning about the school's Career/Technical Education (CTE) program. Students are given a glimpse into what they could study in high school, and how it could impact the direction they choose to lead a successful, productive life post-graduation.
The school's CTE program offers 11 hands-on training career options including:

Agriculture & Natural Resources
Automotive Technology
Business/Financial Management & Accounting
Computer Technology
Construction/Carpentry
Culinary Arts/Restaurant Management Services
Electronic Media & Journalism
Engineering & Design
Graphic Communication Technologies
Health Science
Law, Public Safety, & Security
Fourth graders spent time rotating between the career pathways and learning about the various job fields from high school students.
"We are finding that our elementary students did not realize all the options they have to study in high school. The annual CTE day is giving them exposure to all the pathways and we are finding the students are more excited about going to high school," MHS College and Career Counselor Abbey Wascovich said.
Fourth-grader Samantha Deitz is thinking about a future in law. The school's Law, Public Safety, & Security career pathway is designed to develop a student's knowledge and skills necessary to pursue a career and higher education in law enforcement, emergency services, security and protective services, correction, or legal services.
"I like to investigate and be a spy. I enjoy the high school students teaching us about the career," Samantha said.
It was also a valuable learning experience for high school students like junior Rosa Cerritos-Ortiz. Rosa is in the Health Science pathway. The Health Science pathway orients students to careers that promote health, wellness, and diagnosis as well as treat injuries and diseases.
Rosa also receives hands-on training at Penn State Hershey Medical Center through cooperative learning experiences. She hopes to one day become a radiologist.
"I feel more confident to go into this field because of the experiences I get at MHS," Rosa said.
All MHS high school students choose a career pathway at the beginning of the 9th grade as well as completing college preparatory classes.
There are 45 state and nationally recognized certifications in the program that students have can obtain. In addition to industry certifications, the CTE program also offers high school students a head start by giving them the opportunity to participate in internships, cooperative learning experiences, job shadowing, and transitional services.
For more information about how MHS prepares students for career readiness, please go to http://www.mhskids.org.