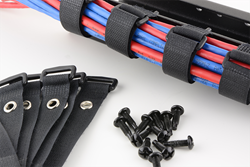 The added eyelet in the straps adds to the ease of mounting.
(PRWEB) May 30, 2014
SecureCableTies™ is prioritizing customer care to fully encompass its motto. And from the surge in website traffic, it is very clear they are doing it right. SecureCableTies™ has recently diversified its storefront with the addition of Secure™ Hook and Loop Eyelet Cinch Straps.
"In the last few years, consumer appliances have increased manifold and even the regular house will have a variety of the necessary electronics," said George McDowell, product executive with SecureCableTies™. "This has increased both commercial demand and the amount of cabling, not only in houses but also in office premises." George McDowell further added, "Sometimes it so happens that the cabling is so intense that it becomes unpleasant to see them running around the walls in separate strands."
Jeramie Cavanaugh, a sales expert at SecureCableTies™ took over, "In such scenarios a mechanic advises to collect all these cables and form a continuous singular bundle out of them so that instead of so many wires running hither skitter, the consumer has a single thick bundle. This increases the aesthetic appeal and decreases the cluttering of the environment. George McDowell went on to add the precise application situations of the Hook and Loop Eyelet Cinch Straps , "These straps are adjustable and can be utilized easily in home theatre systems, network installations or even heavy duty bundling projects. Furthermore, the added eyelet in the straps adds to the ease of mounting and stability of the wire bundle."
"Our products are very versatile and we pride ourselves in saying that all the products are of top notch quality. The customers who have an interest in cable management know that Secure™ is one of the highest grade companies to use," said George McDowell. These strong and durable Secure™ Hook and Loop Eyelet Cinch Straps can be used in events except for cabling too, like in bundling fiber optics. They also come in varying lengths as well as colors which increases opportunities for color coding the project.
When an online marketplace hosts, so many versatile products, the status of that website is elevated in the eyes of the customers. With so many easy-to-use devices on the storefront, consumers will automatically believe in the authenticity of the products. This is exactly why SecureCableTies™ has developed by leaps and bounds.