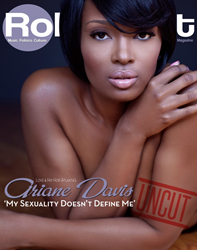 It was just my choice to expose my sexuality because I wanted to.
Atlanta, GA (PRWEB) May 29, 2014
Ariane Davis may not have the notorious reputation of some other "Love & Hip-Hop Atlanta" cast members, but the saucy singer and bartender has just as strong a personality. She's allowed her time in the reality TV spotlight to be a steppingstone to other things, but she's not addicted to the fame and notoriety that come with appearing weekly on "bad girl TV." And she's very clear-eyed about the life cycle of reality stardom. Davis admits that she sees a decline in the reality show fan base — despite the fact that the criticism and scrutiny remain high.
"I think that it has a lot to do with people's storylines and it not seeming as real as it was before." Davis tells Stereo Williams in a recent interview. "Nobody wants to continuously see the same thing. It's cool at first, but you get tired and you don't give people anything to look forward to.
In the previous season of "Love & Hip-Hop Atlanta," Davis publicly acknowledged her bisexuality. "It was just my choice to expose my sexuality because I wanted to ... I'm still a lady and I carry myself like a lady. My sexuality doesn't define me. I still am Ariane — I just have a girlfriend," she closes.
Visit rollingout.com to read the interview in its entirety. Be sure to check out the exclusive photo shoot and video footage with celebrity photographer DeWayne Rogers.
About rolling out Magazine:
Rolling out, the nation's largest free urban weekly, is a digital and print magazine that focuses on the black experience in response to entertainment, politics, fashion, culture, sports and lifestyle points of interest. Headquartered in Atlanta, rolling out is positioned as the voice for the African American experience, using its newspaper as a platform in the marketplace to express urgency for education reform, and to document entrepreneurial endeavors and other relevant issues in the Diaspora. For information on rolling out, please log on to rollingout.com.