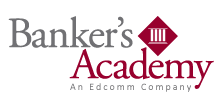 Fort Washington, PA (PRWEB) June 01, 2014
Edcomm/Banker's Academy today announced the appointment of Alan Levith, Esq., as Chief Compliance Counsel. Levith will provide oversight and certify the content within Banker's Academy's Compliance and Regulatory catalogues and marketing materials, discussion groups, blogs and compliance information hotlines; development and oversight of a Compliance Consulting and Advisory division line which will be fully supported by the Banker's Academy's expanding in-house staff; serve as a subject matter expert in compliance related communications and for the Sales division's high value client outreach; serve as an adjunct professor at the new Edcomm Compliance Academy, and serve as a spokesperson for Edcomm and compliance-related conferences and similar events.
Levith brings to Edcomm more than 25 years of demonstrated success in financial industry regulatory compliance issues, most recently serving as Associate General Counsel/National Compliance for the LOGS Network. Previously, he was General Counsel/National Compliance Counsel for HEART Financial Services, after serving as AVP/Compliance Manager for Lehman Brothers Bank, FSB. Prior to that, he held a variety of progressive roles, including Senior Litigation Counsel for the FDIC, and an independent legal consultant specializing in operational risk assessment.
"We are thrilled to welcome Alan to our leadership team," said Banker's Academy CEO Qamar Zaman. "He brings a wealth of legal, business and industry expertise which will help continue to advance our leadership position in providing training solutions for the global financial services industry."
# # #
About Banker's Academy
With 25+ years of experience and over 2,500 clients, Banker's Academy is the leading global provider of training solutions to the financial services industry, with a focus on banks, credit unions, and money service businesses. We're a partner you can count on to help you achieve your business goals. For more information, call 888-433-2666, +1.215.542.6900, or go to http://www.bankersacademy.com.