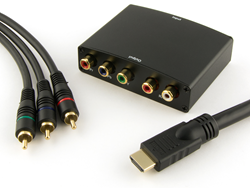 Vivid AV™ HDMI to Component Converter provides compatibility between standard definition and high definition devices.
Quakertown, PA (PRWEB) May 30, 2014
Computer Cable Store™ has recently added a device that they think is a requirement of most households today. The Vivid AV™ HDMI to Component Converters is sure to take the market by the storm.
George McDowell, product manager with Computer Cable Store™ started the conference by giving us an overview. "Affordable HDTVs have become a buying norm for almost five years now. Most households that you will see will have an HDTV these days. In reality HD televisions have become a regularity for the household. However, you might encounter some families with a television, which goes back a decade. These are the consumers who bought the first Adams of HDTV. The one which opened the doors to the many that would follow.
Jeramie Cavanaugh, sales expert with the Computer Cable Store™ took over from here. "But obviously, being old in the electronics industry can be a bit irritating for the owner. These HDTVs lacked what most HD televisions today have as a come and go. The HDMI input. HDMI has become the standard output source for most systems today, be it your Blu-ray player or your High Definition Audio Player. In a nutshell, the older HDTVs would not be able to reciprocate the qualities of these devices let alone play any of the content".
"To these customers, the devices with an HDMI output will be a waste. However, this problem can be easily fixed with our Vivid AV™ HDMI to Component Converter," said George McDowell. "All one has to do is just plug in the power supply to a socket and the HDMI cable end to the HDMI device. As soon as they attach the RGB ends of the Component to the television, there you have it. A completely no loss, playable media. Be it an HDTV, a CRT television or a monitor, the adapter will convert the device into HDMI compatible."
"Our returning customers will have no doubts in buying from us. And the new ones who have studied the market beforehand can vouch for the quality of the products made by Vivid™", said Jeramie Cavanaugh. Furthermore, the adapter has an inbuilt audio converter as well. So not only is the high quality video being played back, the audio will also be of a Dolby Digital level. Also, if the consumer does not have an HD display, the adapter will modulate the signal to make it playable on standard definition displays too."
With such a large utility of the device, the adapter is surely going to sell in huge numbers. Especially for those consumers who are not yet willing to upgrade to a recent high definition system. Helpful and trusting feedbacks from previous consumers are all over the website and customers can read through these by visiting the address mentioned below.