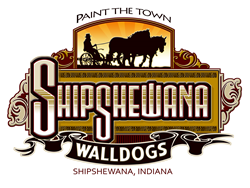 Shipshewana, Indiana (PRWEB) May 31, 2014
Two hundred professional sign painters and artists from all over the world will paint sixteen historic murals during the four days of this event. Visitors are also be invited to participate under the supervision of these experienced and talented artists.
"These murals will be a long lasting source of enjoyment for the residents and guests of Shipshewana," says Beth Thornburg, Executive Director of the LaGrange County Convention and Visitors Bureau. "It is our hope that this event is well attended this year, and that it will continue to draw people here in the future."
The event is sponsored by Shipshewana merchants and retailers, the town of Shipshewana and other LaGrange County businesses and individuals.
The location of the event is Shipshewana, Indiana.
More information can be found at http://www.Shipshewanawalldogs.com.