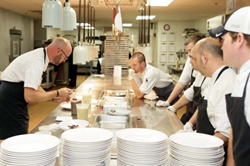 It was an extreme honor to be chosen as the host site for the 2014 American Culinary Federation's dinner. Hosting this was the highlight of my culinary career.
Charleston, South Carolina (PRWEB) May 30, 2014
The Daniel Island Club ballroom in the exclusive Charleston golf neighborhood of Daniel Island Park was the location of a special culinary event this spring, when 125 regional chefs and members of the American Culinary Federation (ACF) convened for a six-course dinner hosted by the Daniel Island Club's Executive Chef, Tyler Dudley on April 28. The black-tie dinner was among the more elaborate events scheduled as part of the ACF's four-day Southeast Regional Conference, held in Charleston for the first time in the organization's 85-year history. The Conference took place April 25-29.
The Daniel Island Club was chosen as the venue for its central location, beautiful scenery and reputation for outstanding cuisine. Executive Chef Tyler Dudley has been a member of the ACF since the beginning of his career and was instrumental in helping secure the club as the location for the prestigious event.
"It was an extreme honor to be chosen as the host site for the 2014 American Culinary Federation's dinner. Hosting this was the highlight of my culinary career," said Dudley. "I am so proud of our staff for pulling off such a seamless event," he added.
In addition to rave reviews for the food, the Daniel Island Club received high praise for its service and staff. The six course dinner was served with wine pairings for each course and included items like Smoked Salmon Mousse, Breast of Guinea Hen with Foie Gras, Domestic Lamb Sous Vide and more (a photo gallery of the complete menu can be viewed here).
"Not since my meal at the James Beard House in New York had I savored as delectable and decadent a meal," declared ACF member and guest Vinny Verelli on his blog.
The event underscores the level of service and attention to detail that has become a signature of the Daniel Island Club, Charleston's in-town country club, located within the award winning island town community of Daniel Island. As the recreational centerpiece of Daniel Island Park, the island's exclusive golf neighborhood, the Club offers two private golf courses, resort-style swim, tennis and fitness facilities and a grand clubhouse featuring exceptional dining opportunities and social events.
About Daniel Island:
Located within the City of Charleston, Daniel Island is a 4,000-acre master planned community featuring traditional neighborhoods, award-winning golf and tennis facilities and an outstanding collection of amenities in a self-contained island town setting. The island's downtown is home to schools, churches, medical offices, boutiques, restaurants, banks, a supermarket, two professional sports stadiums and many other attractions and conveniences. Twenty-three miles of rivers and creeks, hundreds of acres of parks, leisure trails and a private country club provide endless recreational options, and the community's central location within Charleston puts it within a 20 minute drive of the city's famous downtown historic district, area beaches and airport. A highly-desirable residential and recreational destination within Charleston, Daniel Island has been honored with numerous accolades including a prestigious "Award for Excellence" by the Urban Land Institute. The island's development and sales activities are managed by DI Development Company.