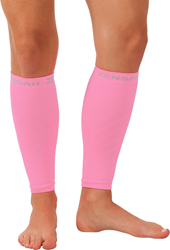 Gradient compression technology is important for travelers.
New York, NY (PRWEB) May 31, 2014
Fresh Legs™ a US leader in compression wear has developed a new range of compression apparel targeted at frequent fliers. "Gradient compression technology is important for travelers," says Fresh Legs™ spokesperson Gary Hayes, "The only mechanism that sends blood back to the heart from the extremities of the body such as the legs, are the muscles around veins that constrict them pushing the blood onwards. When you're seated on a plane for hours on end, there is no activity in the muscles to constrict the veins and the blood begins to pool in the lower legs." This pooling effect, added Mr. Hayes is one of the primary reasons you feel fatigued after a flight.
Fresh Legs™ Travel Compression Socks and Travel Compression Leg Sleeves are tightest at the ankle, where pressure is needed most, and this pressure gradually decreases to its lowest point just below the knee. This enhances the flow of blood, sending the de-oxygenated blood back to the heart faster and allows oxygen-rich blood to be pumped down into the legs.
While other compression products may make the wearer feel itchy and begin emitting odors after a single wear, the Fresh Legs™ products feel amazing on the skin and are engineered to fight odors allowing you to wear your favorite pair multiple times without washing. The moisture wicking properties of Fresh Legs™ Compression Socks for Traveling and Compression Sleeves prevent them from becoming saturated with perspiration.
The Fresh Legs™ Compression Sleeves appeal to travelers who prefer to wear open toed shoes, sandals, or their favorite pair ankle socks, ensuring that everyone is able to experience the benefits of compression technology. The compression sleeves are available in several colors in addition to the traditional black and beige, with blue and pink now available at getfreshlegs.com.
Whether you are on business trip walking right into a meeting as soon as you get off your flight, or are travelling cross-country back home at the end of a school semester, everyone can find benefits in the Fresh Legs Compression Socks and Compression Sleeves. "They help your legs feel energized and ready to go, isn't that a boost everyone needs after a flight," commented Mr. Hayes.
About Fresh Legs™:
Fresh Legs™ is a US leader in compression wear specializing in a full line of therapeutic Compression Socks, Compression Sleeves, Knee Sleeves, Elbow Sleeves, and Ankle Sleeves. Fresh Legs™ is dedicated to improving the health of travelers, nurses, expecting mothers, businessmen and anyone who is on their feet or motionless for extended periods of time.
Gary Hayes
customer(at)getfreshlegs(dot)com