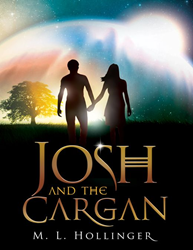 This story is my favorite among all my novels. Every man experiences Josh's problem with girls during the awkward days of puberty.
Friendswood, TX (PRWEB) May 31, 2014
The raging hormones of youth and far-out theories about non-physical intergalactic travel make an explosive combo in the new teen sci-fi thriller "Josh and the Cargan" by retired Air Force Lt. Col. M.L. Hollinger.
With a degree in Aeronautical Engineering from Purdue, 11 years' work on the U.S. military's "Star Wars" defense initiative and other programs, and coordination with NASA on the Space Shuttle, Hollinger (pen name) says fantasizing about how humans can travel effortlessly though space comes naturally. He brings together his knowledge and imagination in this tale of perhaps the ultimate young man's fantasy -- a planet created especially for vicarious sex and reachable only by "Entity Travel."
Since retiring in 2001, Hollinger has written more than 10 sci-fi thrillers, short stories, and magazine articles, some winning awards and honorable mentions in various sci-fi writing contests. In this new intergalactic thriller, the young protagonist is Josh Smith, an older teen with the typical raging hormones.
Josh also wants to be a famous rock star and has an amateur band of his own. One evening, he comes home from band practice to learn that his rich, eccentric great grandfather, "Charley" Evans Bastin, is dead. When the will is read, Josh inherits one of Charley's ugly sculptures while his father inherits the rest of them.
Back home, Josh accidentally discovers his sculpture is actually a Cargan, a device used for interplanetary travel in the form of a ghostly presence called an "entity." Josh uses the Cargan to travel to the planet Mythos and finds it a very exotic place -- a planet created especially for vicarious sexual activity. He meets a girl named Oriana, who teaches him Giran, the language of Entity Travel, and explains the operations of the Grand Council for Entity Travel. Josh decides to keep all of this a secret from his parents.
Meanwhile, another person is very interested in Charley's sculpture collection. Mark Wycham and his ghostly partner Manjahba know that the ugly sculptures are Cargans and have a special plan for them. They're secretly operating an entity replacement scheme allowing them to place their co-conspirators in important government and business positions on other planets. Wycham presents Josh's father with a scheme to build the Charles Bastin Museum of Modern Art to gain control of the sculpture collection and all its secret powers.
Matters become more complicated when the nursing home returns a sculpture Charley was holding when he died. Josh goes to the planet the sculpture serves and finds Charley's entity. Charley tells him the story of the Cargans and warns about the devices falling into Wycham's hands. The result is a set of harrowing adventures as Josh tries to thwart this sinister interplanetary plot.
Published by TotalRecall Publications, "Josh and the Cargan" is available from Amazon.com, Barnes & Noble, Books-a-Million, and other booksellers.
M. L. Hollinger (pen name) received an Aeronautical Engineering degree from Purdue University, joined the Air Force, and attended the Air Command and Staff College and the Air War College. He worked on several space program projects, including Titan III Space Booster, Space Shuttle, Star Wars and several other special studies for the Air Force. For his service in Viet Nam from 1971-1972, he received a number of decorations, including The Bronze Star Medal, Meritorious Service Medal, Air Force Commendation Medal, The Vietnamese Honor Medal First Class, The Vietnamese Gallantry Cross and five unit excellence awards. After retiring from the Air Force in 1980 with the rank of Lieutenant Colonel, Hollinger returned to Indiana, where he has served in many civic organizations. As President of the Indiana Mathematics, Science and Technology Education Alliance, he helped further technical education in Indiana. Governor Mitch Daniels named him a "Sagamore of the Wabash" in 2008, one of the highest honors bestowed on a citizen by the state of Indiana. Hollinger is now fully retired and writing.
TotalRecall Publications Inc. was founded in 1998 by Bruce Moran, a former NASA IT professional who transitioned into computer instruction and educational materials. The company began with the introduction of study guides and Q&A testing software for various computer and financial certification exams and expanded into library and information science textbooks in 2007. Since 2008, the publisher has been developing a fiction product line by debut authors that focuses on mysteries, thrillers, and military action. Additionally, TotalRecall has expanded into general nonfiction and now publishes more than 200 non-fiction and fiction titles, all distributed worldwide through book retailers and wholesalers and via eBook databases such as ebrary, EBSCO, and Books24x7.com. http://www.totalrecallpress.com.