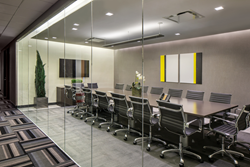 New York, NY (PRWEB) May 29, 2014
Virgo Business Centers has recently announced the opening of their sixth location in New York City at 1345 Avenue of Americas. They offer conference rooms, furnished and shared office space with a full suite of services including receptionist, call answering, 24/7 secure access.
Shared office space is a new way to approach the need for a corporate office that is changing the small business community. In a shared office space one company owns and manages a large corporate office, and rents out individual offices and meeting rooms on a monthly, weekly, daily or even hourly rate. Small businesses renting in the shared office space pay only for the space they use, but get all the benefits of a fully staffed professional office. Virgo Business Centers, one of the top providers of shared office space in New York City, has seen numerous small businesses grow and thrive in their six locations across the city.
The internet age is changing the way everyone does business. The advent of cloud file storage, high powered laptops, and mobile phones means that a professional or small business can do business anywhere it has a desk and wifi access. Many new business models are cropping up to take advantage of this flexibility. However, business owners have also found that even all you need is a desk and wifi, there are advantages to a traditional office set up, including a more professional image, the conveniences of having professional staff, and the ability (greatly lacking at a 'desk' in Starbucks) to close the door and work without interruption or distractions.
Shared office space such as that offered by Virgo BC is a powerful tool for these new business models. It provides the professional environment and amenities that come with traditional office space, while allowing the business all the flexibility and mobility of doing without an office. Small businesses can rent space in a shared office for a day or two each month to meet with clients or investors, or a professional whose work involves travel can rent space in a different city each month.
For start-ups, the lower cost of shared office space is the main benefit. Flexibility in rental arrangements can be helpful to a start up, which might expand significantly and end up trapped by a lase in a traditional office that no longer meets its needs. However, efficient use of capital is one of the holy grails of any business start up. Renting a shared office space significantly reduces the capital investment needed to get a professional office up and running. With staffing, utilities, and security deposits already covered by the shared office company, and no need to rent extra square footage for a meeting room or kitchen area, shared office rentals allow start ups to rent the minimum the amount of space they need to get up and running while still having the benefits and amenities of a full-service office. And start ups renting shared office space from Virgo BC can increase or decrease the amount of space they need each month—or each week—as their business grows and changes.
Virgo Business Centers has been providing high-quality serviced office space in the New York Metropolitan area since 1998. As one of New York City's premier providers of office space, Virgo prides itself on professionally furnished office solutions at a low-cost point, as well as a wide range of other business services.
Virgo Business Centers
350 Fifth Avenue
59th Floor
New York, NY 10118
(212) 601-2700