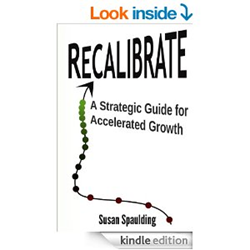 Susan, I want you to know that I missed my bedtime last night because of you. Thought I would just peruse your book and wound up finishing every page by 11:30.
Kansas, MO (PRWEB) June 03, 2014
Marketing Researcher and Strategist, Susan Spaulding announced today the availability of her book, Recalibrate, A Strategic Guide to Accelerated Growth, a book based on interviews with business executives from various industries, sizes and geographies.
In today's competitive marketplace, companies are looking for paths to create short-term solutions and longer-term opportunities that will accelerate their business and brand growth. The four tenets of Recalibration – Relevance, Differentiation, Engagement and Expression – can become the signposts that take you to new success.

Relevance means knowing what matters, matching organizational competencies and goals to current and emerging consumer interests.
Differentiation points to brands that matter, building products and positioning that create a clear and unique sense of value.
Engagement comes from the connections that matter. It happens when you create brand ambassadors of employees, consumers and all those in the value chain by including them in creating and delivering on what you do.
Expression means the stories that matter. It means finding and delivering the essence of a clear and compelling story to maintain engagement.
Spaulding, a visionary strategist and marketing consultant, has consistently delivered deep insights, disruptive ideas and game-changing strategies to accelerate business and brand growth.
"Too many businesses fail to integrate the market perspective in their decision making and therefore may miss opportunities for change and growth. I truly believe that a commitment to listening to your workforce, to your customer and the myriad of influence factors will ensure a competitive advantage and is critical to sustainable growth".
The book can be found on the Recalibrate Strategies website
http://www.recalibratestrategies.com.
RECALIBRATE - Amazon Print and Kindle edition:
http://www.amazon.com/dp/B00KAJP53S
About Susan Spaulding and Recalibrate Strategies
Recalibrate Strategies helps companies grow their business. We apply proven marketing systems to recalibrate their business and their brands by collaboratively creating a success blueprint.