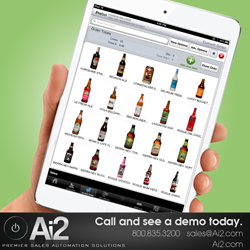 The versatility of our applications helps us give any wholesale distributor a big competitive advantage.
Chicago, IL (PRWEB) June 02, 2014
Mobile sales solution provider Ai2 today announced an expanded relationship with Pine State Trading of Augusta, Maine. The distributor of convenience items, food, beverages and spirits will implement Ai2's sales and marketing applications for iPad and smartphones. The move comes on the heels of Pine State winning the exclusive contract for the distribution of spirits in the state of Maine.
With ProSel® for iPad, Maine's liquor agents will use their iPads to place all spirit orders with Pine State. The application also gives them product images and information, updated account details, barcode scanning, and the ability to place orders from a customer's history. Agents view and manage marketing related content on ProSel's "digital briefcase" - an enterprise content management solution designed to help them make presentations to customers in the field.
The increase in efficiency comes with a positive impact on the environment - Pine State will print fewer catalogs, flyers, sell sheets and other paper-based materials as they move to a digital platform for the distribution of content.
Spirit retailers that Pine State serves will have the ability to order with their smartphones using Ai2's OrderShark™ app for Android and iPhone that includes barcode scanning with the smartphone's camera. Both agents and retailers will have access to promotions, marketing information, and multimedia via bSource for iPad. "We're committed to giving a mobile sales rep everything they need to do the best possible job," said Douglas Katich, CEO for Ai2. Our relationship with Apple Business, our input from industry leaders, and the versatility of our applications help us give any wholesale distributor a big competitive advantage."
Pine State Trading is a family-owned company based in Maine with more than 800 employees and annual sales approaching $1 billion. According to their website, they offer "a diversified sales, marketing, and logistics network" to serve their 5,000-plus customers. They serve most of the Northeastern United States and are "committed to investing in the people and the technology necessary to consistently deliver quality consumer products and services." For more information, visit http://www.pinestatetrading.com.
Ai2 was founded in 1986 and is headquartered in downtown Chicago. Their applications are used by more than 100,000 people each day to capture upwards of $100 billion in annual sales worldwide. More than 10,000 retail stores and more than 1,000 movie theaters use Ai2 solutions for their order entry needs. Ai2 improves the sales process for some of the world's largest distributors in foodservice, convenience store, grocery, beverage, hardware, medical, beauty products, jewelry and more. Ai2 collaborates with Apple Business, a division of Apple, Inc. For more information about Ai2, visit Ai2.com.