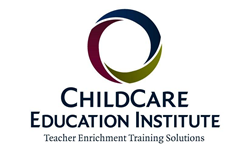 The first three years is the most important developmental time period in a child's life.
Duluth, GA (PRWEB) May 29, 2014
ChildCare Education Institute® (CCEI), a distance learning professional development and certificate provider, is proud to provide a wide selection of online training courses to support the dynamic needs of Infant and Toddler teachers and caregivers in the early care and education industry.
The first three years are critical to a child's development. Infants and toddlers need special care and guidance to ensure optimal physical, cognitive, and social-emotional growth. Research shows that the quality of care an infant or toddler receives has a direct impact on the child's future. CCEI offers a wide selection of Infant and Toddler courses to give caregivers the information to apply research-based, developmentally appropriate practices to promote the safety, health, and happiness for our youngest children. Topics include Brain Development, Positive Guidance, Curriculum, Safety, Early Language and Literacy Development, Overview of the ITERS-R Rating Scale, and more. Infant and Toddler Care courses range from one to three clock-hours, and each clock-hour awards 0.1 IACET CEU upon successful completion.
"The first three years is the most important developmental time period in a child's life," said Maria C. Taylor, President and CEO of CCEI. "It is critical that those caring for infants and toddlers understand this and have the framework to provide the best care and support to children in their early years."
These Infant and Toddler Care courses are available for online enrollment now. For more information, call 1.800.499.9907, prompt 3, Monday - Friday, 8 am - 5 pm EST.
About CCEI
ChildCare Education Institute® provides high-quality, distance education certificates and child care training programs in an array of child care settings, including preschool centers, family child care, prekindergarten classrooms, nanny care, online daycare training and more. Over 100 English and Spanish child care training courses are available online to meet licensing, recognition program, and Head Start training requirements. CCEI also has online certification programs that provide the coursework requirement for national credentials including the Online CDA, Director and Early Childhood Credentials. CCEI is nationally accredited by the Accrediting Commission of the Distance Education and Training Council (DETC), has been accredited as an Authorized Provider by the International Association for Continuing Education and Training (IACET), 1760 Old Meadow Road, Suite 500, McLean, VA 22102; 703.506.3275, and is authorized under the Nonpublic Postsecondary Educational Institutions Act of 1990, license number 837.