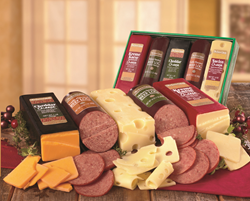 Classic cheeses, meats and nuts are welcome gifts for dads for Father's Day and any time of year.
Monroe, WI (PRWEB) May 31, 2014
Make Father's Day memorable with uniquely delicious sweet and savory snacks. Swiss Colony has many snacking options for dads who want to spend the day with family, relaxing in a hammock or watching sports on TV.
The 5-Piece Gift Box of Cheese Bars with Slicer ($21.95) showcases Swiss Colony's most popular cheeses - Swiss Blend, Edam, Brick and Cheddar. A chrome-plated metal slicer is a handy accessory so snacking can begin upon opening the package. Pair the cheese with his favorite crackers.
There are many choices of sausage available at swisscolony.com that are a perfect match for cheese. Search for Sausage Assortment($36.95 - $59.95) and find gifts of 3, 4, or 6 sausages. The Gift of 3 offers Summer Sausage, Original and a Garlic Beef Log. The Gift of 4 adds on an Extra Smokey Beef Log, while the Gift of 6 includes an extra Summer and Original Beef Log sausage to the package.
For the dad who really knows his cheese, look for one of Swiss Colony's big blocks of Vintage Cheddar, Big Red Cheddar and Big Baby Swiss ($16.95 - 79.95). Many price points are offered to fit budgets. Save up to $30 by selecting a gift with all three big cheeses! These hand-crafted Wisconsin cheeses have been family favorites for generations.
Deluxe Mixed Nuts ($18.95 - $48.95) gift tin combines colossal, quality cashews, pecans, almonds, Brazils and filberts. Choose from a one-, two- or three-pound tin of salty nuts. This is a customer favorite and comes with a double guarantee - if this is not the finest Mixed Nuts you have ever tasted, simply return it and choose another item worth twice the price!
"Classic cheeses, meats and nuts are welcome gifts for dads any time of year," says Becky Henke, VP of Food at Colony Brands. "At SwissColony.com, delicious food and customer satisfaction are the keys to the success of our family-owned business."
For more delicious gift ideas, visit The Swiss Colony online to see a huge assortment of the company's traditional and novelty offerings including baked goods, chocolates, candies, meats and cheeses. It's easy to shop at http://www.swisscolony.com.
About The Swiss Colony
The Swiss Colony is a family-owned Wisconsin company that has been creating food gifts for more than 88 years. The company insists on the highest quality ingredients for a large selection of festively packaged gifts for every occasion. Exclusive recipes developed by European Master Bakers and hand-decorated novelties like no other are just two of the reasons customers include The Swiss Colony as part of their holiday traditions every year.