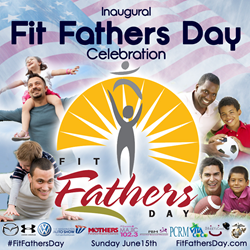 Eat clean, stay active and continuously energize your life!
Silver Spring, MD (PRWEB) May 30, 2014
On Sunday, June 15, 2014 Fit Fathers Day will have little to do with ties, socks and cologne but will focus on the tools and mindset needed for long-term life enhancement. It's important on Father's Day and each subsequent day that dads and male role models spearhead this call to action by taking time out to engage in physical fitness and employ healthy food choices with their families.
"The moment has never been better for Fit Fathers Day to manifest, says FitFathers.com and Fit Fathers Day founder Kimatni D. Rawlins. It's time for men to rise to the occasion and positively lead their loved ones."
Powered by Fit Fathers, Radio One, Mazda USA, WANADA, The Washington Auto Show, Volkswagen USA, DaddysCool.com, Under Armour, Vita Coco, The Marines, Mothers, Powerful Beyond Measure and Physicians Committee for Responsible Medicine, Fit Fathers Day asks the following commitment from fathers:

On June 15 enjoy one hour of energetic activities with your family such as a 5K to 10K run, family bike ride, soccer, hiking, ball games, swimming or a simple walk through the park with nature.
Watch the Fit Fathers Day video PSA and post a picture and statement on our Facebook page on why you are committed to Fit Fatherhood. Then, engage with @FitFathers on Instagram, Twitter and Flickr using hashtags #FitFathersDay and #FitFathers.
If you reside in the Washington, DC Metropolitan Area, join Fit Fathers and Radio One for the 11am Fit Fathers Day "Social Workout" on June 15 at the Silver Spring Civic Center (Veterans Plaza) in Downtown Silver Spring, MD (8525 Fenton Street). The free event, targeting the entire family, features exercises, games, activities, healthy snacks and a car and bike show presented by Auto Fit, Throttle Life and Automotive Rhythms. The fitness session will be led by Kimatni Rawlins and will include 100+ families interacting socially and physically for Fit Fathers Day. RSVP at http://www.FitFathersDay.me.
After Fit Fathers Day continue to motivate your family with daily exercise and please replace chips, cookies and soda with fruits, water and fresh, homemade juices. Cook more meals at home and eliminate fast food entirely.
Statistics show that over one third of children in the United States are obese and recent studies suggest that fathers have the most influence over what children eat and what they do.
"Ultimately, nutritional eating, a conscious focus on overall wellness and regular exercise will keep us all breathing easy, running farther, swimming faster, cycling longer and laughing harder," Rawlins adds.
Now is the time. View the Fit Fathers Day video PSA and pass it along. Collectively help impact lives and reshape what families think is important on Father's Day and every day thereafter. The PSA asks dads to spend more physical time with their kids and take an oath to become more proactive and active. The video resides on multiple social media platforms and is promoted through the hashtags #FitFathersDay and #FitFathers. Fathers will be able to win prizes from BOSE audio and Mothers car care by posting pictures and videos of family fitness activities on Father's Day using #FitFathersDay.
For more information visit http://www.FitFathersDay.com and for interviews or inquiries e-mail InfoDesk(at)FitFathers(dot)com. Please view the Fit Fathers Day video PSA.
A Word from Fit Fathers
Health, fitness, nutrition and overall wellness are priorities for the extension of life. We must eat whole foods from the earth daily to achieve the balance of vitamins, minerals and phytonutrients our bodies need. In addition, appropriate nourishment helps us function properly, perform sustainably and effectively fight off the onset of degenerative diseases such as cancer, diabetes, hypertension, heart disease and more. Regular exercise is required to maintain muscle mass, strengthen bones, balance blood sugar, stabilize weight, circulate blood and regulate the metabolism. Eat clean, stay active and continuously energize your life!
Marcellus Wiley, ESPN TV Analyst and Fit Father
"I share love and wisdom that truly strengthens the bond with my daughter. We challenge each other physically and with life lessons that bring us closer together, while becoming teammates in the process. I recommend every dad partake in Fit Fathers Day, because it's more than simply being active, it's a lifelong relationship."