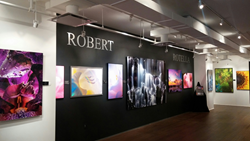 The SoLux track lighting and drop fixtures always make our images sing.
Rochester, NY (PRWEB) May 30, 2014
The Rotella Gallery located in the SoHo neighborhood of NYC recently installed SoLux lighting. Rotella Gallery features the fine art photography of Robert Rotella and Art Wolfe. The space measures 7000 square feet, 4000 on the upper level and 3000 on the lower.
Quoting Peter W. Pinto, Gallery Director: "Our chromogenic dark-room images and inkjet prints are truly brought to life by the SoLux lighting. SoLux lighting from Tailored Lighting has truly been wonderful to work with as it is easy to install as well as focus. The spread is also impressive for such a small, unobtrusive fixture. The SoLux track lighting and drop fixtures always make our images sing. They are easy to adjust as well as maintain."
"We see the world in color, but all too often try to render it in black and white." – Robert Rotella
Robert Rotella has a reverence and awe for the natural world. He has photographed landscapes all over the world, but after the arrival of his children, he began exploring macro photography closer to home. A self-taught photographer, his work is mainly influenced by Michelangelo, Georgia O'Keeffe and Art Wolfe.
"I feel that I was destined to be a storyteller through the photographic medium, and I don't take that lightly." – Art Wolfe
Over the course of his 30-year career, Art Wolfe has worked on every continent and in hundreds of locations. His stunning images interpret and record the world´s fast-disappearing wildlife, landscapes, and native cultures and are recognized throughout the world for their mastery of color, composition, and perspective.
SoLux is a patented light source sold by Tailored Lighting Inc., Rochester, New York, 14624. SoLux provides an unparalleled replication of natural daylight. Use of SoLux in many of the world's top museums including the van Gogh, Musee d'Orsay, MoMA, and Guggenheim is testament to its unmatched color quality and safety. SoLux also has eight times the life and twice the efficiency of standard incandescent sources, is dimmable, and is a fraction of the cost of LED sources. For more information visit http://www.solux.net or call (800-254-4487).