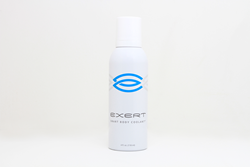 We don't want to just help the 27 million now, but the 43 million women by 2020.
(PRWEB) May 29, 2014
Hot flashes and night sweats are two of the most tormenting symptoms of menopause. Some women are lucky enough to not have them, but an estimated 27 million women are not so lucky. For years, these women have had to try the same products, remedies, and treatments over and over again. Chain Drug Review comments on this by noting that, "hot new products engage shoppers" yet nothing presented itself as a new, viable, innovative hot flash solution. Exert Co. had these women, in mind specifically with the development and release of Exert Smart Body Coolant.
Exert is a skin temperature regulator that adjusts to each individual woman's own body and helps manage skin temperature spikes. "Exert is smart because it works only when skin temperature spikes," says Chris Joyce, CEO of Exert Co. Skin temperature spikes such as hot flashes happen at random so Exert regulates skin temperature effectively throughout the day. Simply spray on Exert in the morning or at night before bed. Exert doesn't feel cold when applied but instead works by drawing heat away from the body only when the body needs it. When skin temperature rises, Exert activates and cools the skin by 2 to 6 degrees. When body temperature drops to normal, Exert recharges and is ready to cool again without the need to reapply.
When developing Exert, Joyce wanted to make sure that Exert has the innovative technology to help the millions of women suffering. "We estimate there will be a 10% annual increase in the hot flash population. We don't want to just help the 27 million women now, but the 43 million women by 2020," says Joyce. The proactive approach that Exert uses to keep women cool and dry throughout the day certainly is a breath of fresh air into an archaic industry using only reactive measures.
Innovation is key when developing an entirely new product. Even more difficult is bucking an industry trend. Exert Co. accomplishes both by creating their own category of product with their revolutionary technology. Millions of women are excited about Exert and are anxious to give it a try for themselves.
A 4 to 6 week supply of Exert Smart Body Coolant retails for $30. To learn more about Exert Smart Body Coolant visit http://exertco.com or call 877-929-9922.
About Exert Smart Body Coolant
Exert Smart Body Coolant is a once a day body spray that activates only when skin temperature spikes. Exert cools the body by up to 6 degrees. Whether it's menopause, hot flashes, stress, medication, anxiety environment, excessive sweating, or physical exertion, Exert Smart Body Coolant helps regulate skin temperature. To learn more visit http://exertco.com.
About Exert Co.
Exert Co. is a Wilmington, DE based company that makes smart, functional, consumer products that solve "big market" problems in completely new ways.