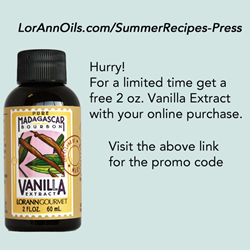 LorAnn's summertime classic recipes featuring flavors that will make simple summer desserts shine!
Lansing, MI (PRWEB) June 17, 2014
Have plans for entertaining this summer?
Look no further than LorAnn's new Summertime Classic recipes featuring flavors to make simple summer desserts shine.
Whether entertaining a large group or baking for a small group of family and friends, LorAnn's line of Bakery Emulsions and Premium Vanillas are the secret to big flavor.
Use Watermelon Super Strength flavor for cupcakes channeling a popular summertime fruit. Put a delicious twist on oatmeal raisin cookies with the new Cinnamon Spice Bakery Emulsion. Or, put a new spin on a classic crowd-pleaser and try the best-selling Red Velvet Emulsion in cake batter-flavored red velvet whoopie pies.
Hosting a kid's birthday party?
Summer-themed candy molds, hard candy lollipop recipes and Flavor Fountain flavors for homemade ice cream and shakes make any fete delicious and memorable.
Baking desserts for Independence Day?
Our Cream Cheese Bakery Emulsion is the key to flavoring the crust of a simple blueberry tart—sure to wow guests and add requisite 'blue' patriotic color to a spread.
For a limited time, visit http://www.lorannoils.com/SummerRecipe for a promo code to receive a complimentary 2 oz. sample of LorAnn's Madagascar Vanilla Extract with any online retail purchase.
For more summer recipe ideas, visit http://www.lorannoils.com/SummerRecipes and join LorAnn's Pinterest community at pinterest.com/lorannoils for even more inspiration.
About LorAnn Oils:
Family-owned and operated since 1962, Lorann Oils is a wholesaler and retailer of high-quality, gourmet flavorings, essential oils and fragrances catering to both the home consumer and small companies including bakeries, cake-pop businesses, cupcake businesses, candy makers, popcorn shops and more.
Our products are sold in the United States and throughout the world. LorAnn products can be found in grocery stores, gourmet retailers, pharmacies, craft stores, and cake & candy supply shops.