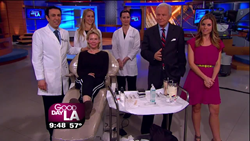 Los Angeles, CA (PRWEB) May 29, 2014
According to an article in the June 2014 issue of Fitness Magazine, most people do not realize that they expose themselves to the harmful rays of the sun on a daily basis, even while going about the most mundane of tasks. Over time, such exposure can cause more sun damage than a day at the beach. Experts say that in the long run, unprotected exposure to the sun, even for a short duration, can cause skin damage. (See: goo.gl/M0OtJL)
"Each and every day I treat the effects of sun damage in our clinic," says Dr. Simon Ourian, Medical Director of Epione Beverly Hills. "Some of my patients spent too many years working on the 'perfect tan' not realizing the terrible damage they were doing to their skin. Other patients, however, were careful to protect themselves only when they went to the beach or when they knew they were going to be exposed to the sun all day. What they may not have realized is that sun damage is cumulative, that a few minutes of exposure here and there add up over the years to real damage."
The Fitness Magazine article recommends using a broad-spectrum SPF product in the morning, and then re-applying later in the day. Optimally a mineral-based product that contains either titanium dioxide or zinc oxide should be used. Such sunblock reflects the sun's light and does not allow it to damage the skin. The effectiveness of a product is also dependent on how it is applied. One may choose an SPF 30 product, but a thin application will result in lesser protection. Also, makeup is inadequate to protect one's skin, even if it offers SPF 15 or 30. It is far safer to apply a sunscreen first, allow it to dry properly, and then apply one's makeup.
"The fact is that you need sun protection 365 days a year," says Dr. Ourian. "It is important for people to understand that their skin needs to be protected from sun damage on a daily basis, without fail. On days that are cloudy and those that are sunny the UV rays of the sun penetrate through the atmosphere. These rays can damage the human skin and lead to premature aging. Research also suggests that sun damage is closely related to skin cancer."
Dr. Ourian has been a pioneer in laser technology and non-invasive aesthetic procedures including Restylane, Juvéderm, Radiesse, Sculptra, and CoolSculpting. These treatments are used for the correction or reversal of a variety of conditions such as acne, acne scars, skin discoloration, wrinkles, unwanted fat, stretch marks, varicose veins, cellulite, and others. More information about skin care can be found on Epione's website.