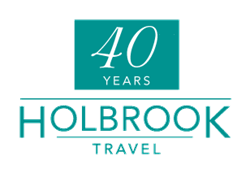 Fostering global citizenship and prioritizing environmental conservation are at the foundation of our approach as we begin the next 40 years.
Gainesville, Fla. (PRWEB) May 30, 2014
Holbrook Travel, an educational travel provider, is celebrating 40 years of serving the needs of teachers, students, academic institutions, conservation organizations, and nature enthusiasts. Holbrook Travel was founded in 1974 by Giovanna Holbrook with a mission of offering travel opportunities that were both affordable and educational. Based in Gainesville, Fla., Holbrook offers natural history expeditions in Latin America, Eastern Africa, and destinations beyond with education, enrichment, and enlightenment as the centerpiece of each program.
Throughout the years Holbrook has been recognized for its longstanding commitment to ecotourism through sustainable and responsible travel practices, ethical voluntourism programs, and promotion of conservation-based community education. Holbrook is also a founding member of non-profit organizations the International Galapagos Tour Operators Association and Friends of Serengeti, and provides carbon offsetting through ClimateSafe, the nation's first federally recognized certification mark for greenhouse gas neutral products and services.
In 1985, Giovanna Holbrook rescued 500 acres of primary and secondary rainforest from deforestation in Sarapiquí, Costa Rica. The site later became home to Selva Verde Lodge, a 50-room eco-lodge and private rainforest reserve that protects hundreds of species of plants and wildlife including the critically endangered Great Green Macaw. In 1993, the Sarapiquí Conservation Learning Center (SCLC) was built on the edge of the property, initially intended as a library for the local community. Today, SCLC is a non-profit organization dedicated to providing community outreach in the Sarapiquí region.
Over the past 40 years of operation, Holbrook Travel has increased its destinations and program offerings and is now a trusted travel provider for hundreds of educational institutions and natural history organizations throughout the U.S. and overseas, including non-profit lifelong learning organization Road Scholar.
"Our goal is to continue the great work my mother started," said Andrea Holbrook, president and CEO of Holbrook Travel. "The increasing importance of fostering global citizenship and prioritizing environmental conservation are at the foundation of our approach as we begin the next 40 years," said Holbrook. "I'm proud of the work that our team has accomplished and excited to continue the journey."