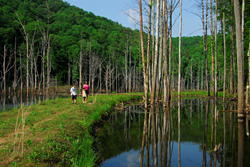 "In West Virginia, the state park system supports the country's largest celebration of trails by inviting everyone to come out and walk a trail." - Sissie Summers, programming services coordinator.
South Charleston, W.va (PRWEB) May 29, 2014
West Virginia's state parks extend an invitation to take a hike to help celebrate The American Hiking Society's annual National Trails Day event. This year the national promotion is set for Saturday, June 7, 2014.
"Public parks, organizations and outdoor enthusiasts recognize walking and hiking as healthy lifestyle activities. In West Virginia, the state park system supports the country's largest celebration of trails by inviting everyone to come out and walk a trail," said Sissie Summers, programming services coordinator. "We will offer several guided walks and hikes, but we've discovered there are many visitors who prefer setting their own pace and trail selection, and they are encouraged to participate too."
Guided hikes have the added benefit of a naturalist or leader knowledgeable about the area, trails and natural aspects of a trail contributing to the hiking experience, according to Summers. "Regardless of whether you join in a planned hike or venture out on your own, the first Saturday of June in 2014 is a good opportunity to take a walk or a hike, preferably at a West Virginia state park."
Hikers and walkers June 7 are encouraged to keep a mileage log, available online at http://www.wvstateparks.com under Special Notices. Postcard-style log sheets also are available at state park offices or visitor centers to pick up June 7. Information is recorded and submitted by the hiker and mailed to the central state park office. A participation certificate and trails patch is mailed to participants after June 30.
State parks offering guided hikes on National Trails Day (or weekend) include:
Cacapon Resort State Park (Morgan County) http://www.cacaponresort.com
Hike Across West Virginia, June 7. The 10-mile hike across the Ridge of Cacapon Mountain begins at 9 a.m. at the Cacapon Nature Center. After a moderate start, the trek is fairly level hiking on the Fire Trail and opens into a wonderful view shed. A shuttle is provided for the return. An advance call to participate is requested. Hikers should wear appropriate hiking shoes or boots (no flip-flops) and are encouraged to bring water and snacks. Guide: Renee Fincham, naturalist. 304-258-1022 or email renee.m.fincham(at)wv(dot)gov to register.
North Bend State Park (Ritchie County) http://www.northbendsp.com
Family Trails Weekend, June 6-8. Multiple hiking activities are available. A full weekend schedule is posted on http://www.northbendsp.com that includes Friday hikes as well as many Saturday activities such as kayak demonstrations, area tours, scavenger hunt, fishing derby, night hikes and mountain bike clinics. Highlighted hikes and walks June 7 include: a 9 a.m. bird walk departing from the lodge; 1:30 p.m. Tunnel 13 Hike on the North Bend Rail Trail; geocaching at 4 p.m.; and night hike at 9 p.m., all beginning at the Nature Center. Guide: Ken Zebo, naturalist. 304-643-2931
Twin Falls State Park (Wyoming County) http://www.twinfallsresort.com
Bike the Park, June 7. National Trails Day is an invitation to hike at Twin Falls and report mileage to the front desk or to mail a distance log card. Certificates and patches are mailed to hikers participating in this national day of hiking. Call 304-294-4000 for information.
Watoga State Park (Pocahontas County) at http://www.watoga.com
Fred. E. Brooks Memorial Arboretum Tour, June 7. Meet at the Arboretum to begin hiking this 4.5-mile loop. Wear appropriate footwear. Guide: Cheryle Boggs, naturalist. 304-499-4087
Watters Smith State Park (Harrison County) http://www.watterssmithstatepark.com
Nature by Night Hike, June 7. Celebrate National Trails Day with a guided night hike. Hike begins at 9 p.m. at the Activity Building. Following the hike, refreshments and prizes will be provided. Bring binoculars and wear sturdy hiking shoes. No registration or fees required. The hike will be led by Andy Bennett, park superintendent. 304-745-3081
Daily activities at Blackwater Falls, Cacapon, Holly River, North Bend and Pipestem state parks are generally posted on the specific park website under the "To Do" tab. These activities include nature center tours, hayrides, night hikes, and general nature topics. Special events and activities at West Virginia state parks are posted on http://www.wvstateparks.com, "Events Calendar."
**DNR**
Photo courtesy of the West Virginia Department of Commerce.
National Trails Day is being celebrated at North Bend and other state parks to encourage people to hike and enjoy nature's beauty.
West Virginia Division of Natural Resources
http://www.wvdnr.gov
Earl Ray Tomblin, Governor
Frank Jezioro, Director
News Release: May 29, 2014
Facebook: WV Commerce - State Parks
Hoy Murphy, Public Information Officer 304-957-9365 hoy.r.murphy(at)wv(dot)gov
Contact: Sissie Summers, Parks and Recreation Section
304-558-2764 DNR.Parks(at)wv(dot)gov