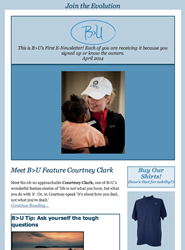 Austin, TX (PRWEB) May 30, 2014
Inspirational website Be Greater Than You (B>U) takes the next step in promoting its brand through its first e-newsletter being distributed monthly. Each issue will showcase a B>U feature person and tips to help become a greater person.
The first issue features Courtney Clark who beat Melanoma cancer at the age of 26 and a brain malformation five years later. Clark uses those experiences to inspire others to embrace her mantra of "it's how you deal, not what you're dealt".
The second issue features Dr. Joanne Cacciatore. Dr. Cacciatore is the founder of the MISS Foundation and professor at Arizona State University. She specializes in treating those parents affected by traumatic death of a child.
Each issue also feature inspirational tips and observations. One article is about the power of laughter and smiling for better health. The next issue's article is about the power of compassion and kindness.
Each newsletter posts a short joke to keep the tone light and fun. B>U creators Matt Evans and Richard May want to make sure the inspirational site is not an over-serious site and is aimed at the average person. They say many inspirational sites go for the over-achiever or fighting depression.
B>U is the philosophy to become a greater person for a greater world. The brand and website's slogan "join the evolution" reflects that personal change takes small steps.
The website also recognizes that inspiration to become a greater person comes from many forms such as personal stories and lifestyle tips. Both of which the site promotes.
About B>U:
BGreaterThanU.com offers lifestyle tips and inspirational stories about individuals being greater than themselves for a greater world.