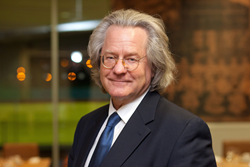 London, UK (PRWEB UK) 30 May 2014
Professor A C Grayling, Master of New College of the Humanities, was the keynote speaker for the 2014 Swiss Group of International Schools' (SGIS) 'College and Guidance Counsellors Annual Conference' on 26th May 2014 at The International School of Zug and Luzern.
Grayling spoke about 'The Future of 21st Century Higher Education' to an audience of counsellors and representatives from around 40 schools, who were encouraged to ask questions throughout the presentation. His thoughts hinged on the nature of education itself, how students can be better supported, how their academic experience might change in the future and how they could be better prepared for careers when they are at university.
In addition to his keynote speech, Professor A C Grayling also hosted a philosophy afternoon with around 80 students at ISZL; this session centred around the theme of 'Philosophy for everyday life' and he addressed various issues including: to what extent does money bring happiness, as well as what is philosophy and how can it help others.
This year's conference tackled the issues of preparing for the new SAT and successfully tracking university feedback for students applying to countries outside the UK (where UCAS solves this challenge).
New College of the Humanities combines the best of the broader US liberal arts tradition with the depth of a single honours undergraduate degree taught through high-intensity, one-to-one and small group teaching.
An independent survey 1 recently revealed that students at New College of the Humanities are twice as satisfied with their academic experience as students at leading UK universities.
The study also found that students at New College of the Humanities who responded enjoy 30 per cent more contact hours, and complete twice as many assignments as their counterparts, putting them amongst the UK's hardest working students. Reassuringly, a whopping 99 per cent of them feel that their tutors are supportive and helpful, compared to 76 per cent at leading UK universities.
The College's rolling applications process is independent of UCAS and applications can be made in addition to the five UCAS choices and can still be made for entry in 2014.
Visit http://www.NCHum.org for all enquiries and applications.
Ends
For further information, please contact:
Desi Lyon, New College of the Humanities
desi.lyon(at)nchum(dot)org
+44 (0) 20 7291 1385
Notes to Editors
About New College of the Humanities
New College of the Humanities (NCH) offers a new model of higher education for the humanities in the UK. NCH students enjoy one of the best staff-to-student ratios in UK higher education and benefit from a high number of quality contact hours as well as engaging and challenging one-to-one tutorials.
Our professors are international experts in their fields and our full time academic staff members have been selected for their proven ability and enthusiasm for teaching in addition to their research interests.
NCH prepares students for undergraduate degrees in: Economics BSc, English BA, History BA, Law LLB, Philosophy BA, Politics & International Relations BSc.
In addition to their 12-module degree, all NCH students study a further eight modules. This comprises four modules from another degree subject, Art History, Classical Studies or Psychology as a contextual course and three core modules in Applied Ethics, Logic & Critical Thinking and Science Literacy. All students also follow the College's Professional Programme.
The College is centrally located in Bloomsbury, London's university district and students, as associate members of the University of London, have access to many of the resources of the University of London: the exceptional library in Senate House, the University of London Union, sports facilities, and many other opportunities to enrich themselves through extra-curricular activity.
About the research
1 In March 2014 NCH commissioned YouthSight, a specialist youth, student and graduate research agency, to run an abbreviated version of the HEPI 2013 Student Academic Experience Survey with a group of NCH students. The NCH results were then compared with the official HEPI results for students of humanities and social sciences at Russell Group universities. YouthSight have worked with HEPI for six years, and conducted the fieldwork for the annual HEPI Student Academic Experience Survey.
The statistics show (percentage in brackets reflects HEPI results):

63 per cent of students at New College of the Humanities say that their university experience has exceeded their expectations. (32 per cent)
New College of the Humanities students experience an average of 13.8 contact hours per week. (10.65)
Over 97 per cent of contact time at New College of the Humanities is with an academic member of staff. (79 per cent for groups of 0-5 students/ 84 per cent for groups of 6-15 students)
99 per cent of students at New College of the Humanities say that teaching staff are helpful and supportive. (79 per cent)
85 per cent students at NCH believe that teaching staff work hard to make their subjects interesting. (73 per cent)
88 per cent students at New College of the Humanities say that teaching staff clearly explain course goals and requirements.(67 per cent)
85 per cent students at New College of the Humanities say that teaching staff regularly initiate debates and discussions. (66 per cent)
84 per cent students at New College of the Humanities believe that teaching staff use lectures to guide independent study. (66 per cent)
87 per cent of students at New College of the Humanities are satisfied with the facilities. (88 per cent)
84 per cent of feedback at New College of the Humanities is given in person (31 per cent)
91 per cent of students at New College of the Humanities claim it is easy to schedule time to discuss work, or discuss work on email, outside of scheduled work hours (71 per cent)
88 per cent of students at New College of the Humanities state they have sufficient access to academic staff outside timetabled sessions in order to discuss aspects of their work (69 per cent)
88 per cent of students at New College of the Humanities say they feel motivated to do their best work (58 per cent)