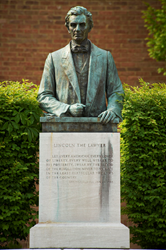 This is an opportunity to increase our recruitment base, provide our students with a more diverse academic community and continue our mission by providing more services to underserved populations.
Harrogate, Tennessee (PRWEB) May 30, 2014
Lincoln Memorial University (LMU) and American Language Academy (ALA) of Greensboro, N.C., have entered into an agreement to promote enrollment of international students at both institutions.
ALA, an English language and American cultural studies school for post-secondary students with its main office and classroom space in Greensboro, N.C., and auxiliary classroom space on the campus of Guilford College, aims to bring its highly successful English language academy to LMU's main campus in Harrogate, Tenn., in the fall of 2014. ALA will operate independently, offering the academy's nine-week sessions five times a year. ALA students will be housed in the LMU residence halls and will have access to LMU learning, social and cultural resources.
"This is a crucial relationship for Lincoln Memorial University and an opportunity to increase our recruitment base, provide our students with a more diverse academic community and continue our mission by providing more services to underserved populations," said LMU Vice President for Academic Affairs Clayton Hess. "An English language institute on campus is important for LMU to meet its current and future goal. We are very fortunate to have the opportunity to form this innovative partnership."
In addition to providing housing and an immersive experience for ALA students during their studies, LMU will offer preferred applicant status and a conditional letter of acceptance to LMU for graduates of the ALA program. For those who choose to apply to LMU as degree-seeking students, the University will consider successful completion of ALA's Level Five class to be proof of English proficiency. Other international students must submit a Test Of English as a Foreign Language (TOEFL) score. Applicants from the ALA program must meet all of the University's other admission requirements for international students.
While ALA has partnerships with ten other institutions of higher education, LMU will be the first where it will offer its complete program on site. Other academic partners include North Carolina A&T State University, Appalachian State University, ECPI University, Guilford College, High Point University, Living Arts College, Salem College, University of South Carolina at Aiken, SUNY Cobleskill and Tarleton State University.
"Our campus on LMU is a great opportunity for international students who are seeking a true immersion learning experience that will address the academic, cultural and social needs in a safe and nurturing environment," said ALA President John Ricci. "LMU's goal of diversity and cross-cultural understanding will benefit students from both institutions. We are looking forward to helping LMU achieve this goal."
ALA and LMU aim to be ready for students in October 2014, pending accreditation. ALA will be located in DAR Hall on the LMU main campus in Harrogate and students will be housed in Liles and West Residence Hall.
About LMU
Lincoln Memorial University is a values-based learning community dedicated to providing educational experiences in the liberal arts and professional studies. The main campus is located in Harrogate, Tennessee. For more information about the undergraduate and graduate programs available at LMU, contact the Office of Admissions at 423-869-6280 or e-mail at admissions(at)lmunet(dot)edu.
About ALA
American Language Academy aims to provide the best learning experiences and support to English Learners (ELs) to meet their language needs for their academic, professional and social purposes. ALA is committed to enabling ELs to develop their utmost academic talents and cultural competence in an environment of integrity, individual attention, active learning and mutual respect. ALA in Greensboro, N.C. is nationally accredited by the Commission on English Language Program Accreditation. Learn more at http://www.ALA.edu.