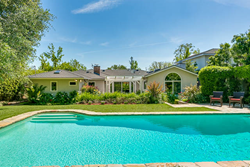 Irina sold my Pasadena home in just a few days from open house to escrow for a price far above asking.
Pasadena, CA (PRWEB) May 30, 2014
Irina Netchaev, real estate expert and founding broker, Pasadena Views Real Estate Team Inc. helped home sellers Elaine and Craig Maxwell, sell their home at record setting price for the Chapman Woods Pasadena area. Their 4 bedroom, 3 bath home sold for $1,550,000, $300,000 over asking, at $628 per sq. ft.
This is the second home Netchaev sold for the Maxwells. The first home, in the Michillinda Park neighborhood of Pasadena, was sold in early 2013 for a record breaking 33% over asking sales, netting an additional $233,500.
To appeal to a wide buyer audience, Netchaev mobilizes her team of experts, including George Harrison of Harrison Home Improvement, Fernando Gonzalez of Del Rio Termite and Michelle Minch of Moving Mountain Design, to get properties she markets ready for sale. Coupled with an aggressive marketing plan including real estate portal and social media syndication, individual property site, targeted buyer profiling and traditional real estate techniques and expert negotiation approach, the attained results are atypical and quite staggering.
Elaine Maxwell: "Five stars are not enough for Irina Netchaev and the Pasadena Views Real Estate Team. Irina sold my Pasadena home in just a few days from open house to escrow for a price far above asking. Her smart and comprehensive marketing strategy produced many strong offers. Irina explained clearly the merits and weaknesses of each of the top offers, and she handled the negotiations very professionally. She is very pleasant to work with, and she really knows the Pasadena area market. The Pasadena Views Team is tech-savvy and very effective at marketing, and I would recommend Irina and Pasadena Views to anyone."
There were 71 Single Family Homes sold in Pasadena during the month of April, The average sales price was $1,049,000 with a closed price per square foot of $498. On average, homes sold 2% over asking price.
To learn how you can get top dollar for your home in Pasadena, San Marino or Los Angeles, contact Irina Netchaev at 626-629-8439 or visit Pasadena Views at http://www.PasadenaViews.com.