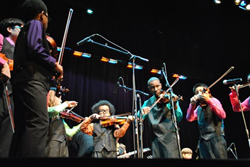 New York, NY (PRWEB) May 31, 2014
The Boys' Club of New York (BCNY) is excited to announce that the BCNY student musicians will be performing their annual concert on Tuesday, June 3rd, at New World Stages in the Theater District at 6:30 p.m.
The 2014 concert will feature pieces from all different genres, including works by the group Imagine Dragons, jazz great Dizzy Gillespie, and pop star Pharrell Williams. All proceeds go directly to support BCNY's programming.
This year's band is made up of approximately 30 members from all three clubhouses, led by BCNY's Director of Music Education, Malcolm Swisher. Band members have been studying with accomplished music teachers through BCNY's Josie Robertson School of Music and Art, a program offered at each clubhouse. Last year, 524 boys took 11,775 hours of lessons at the Boys' Club, all for $25 per semester. The boys have many opportunities to perform throughout the year, but they only perform as a full band once a year at this annual concert.
This year, the Concert will be followed by a special VIP dinner at Gallaghers Steakhouse, recently renovated and reopened by new owner and BCNY Trustee Dean Poll. Located in the heart of Times Square, Gallaghers' wood-grilled steaks, hand-crafted cocktails, and old-school, elegant service have elevated the theater district dining scene since they reopened their doors in February, 2014.
Tickets can be purchased by emailing susan(dot)bender(at)bcny(dot)org.
About The Boys' Club of New York
The Boys' Club of New York is committed to nurturing, mentoring, and guiding boys and young men to prepare them to reach their fullest potential.
Throughout its 138-year history of youth development, The Boys' Club of New York has combined a single-minded focus on boys and young men with a unique, multi-disciplinary approach that prepares them for a fulfilling and meaningful adulthood. The Boys' Club of New York accomplishes this through an approach that includes music and arts programs, social and recreational activities, academic support and athletics.
By introducing boys to new ideas, expanding their interests, developing their hobbies, providing a safe and nurturing environment and offering ongoing counseling and mentorship, The Boys' Club of New York helps shape boys and young men into the best adults they can be.
About Gallaghers Steakhouse
Founded by former Ziegfield girl Helen Gallagher and the colorful gambler and sports enthusiast Jack Solomon, Gallaghers opened as a speakeasy and steakhouse in 1927. At that time, the height of Prohibition, a good stiff drink and a great steak were hard to find in New York – except, of course, at Gallaghers.
When Prohibition ended in 1933, speakeasies across the country began closing their doors. Gallaghers, however, became more popular than ever. A simple truth became clear: while drinks were now readily available at dining establishments across the city, a great steak was still hard to find, and Gallaghers was serving one of the best.
Broadway stars, businessmen, politicians, and athletes have long frequented this quintessential Manhattan restaurant. Gallaghers was purchased by New York restaurateur Dean Poll in 2013, and, following an extensive renovation, will reopen in January 2014.
Once again, New Yorkers will return for the world-class cocktails and incredible steak – prime beef dry-aged for 21 days in Gallaghers' legendary windowed meat locker. Additionally, Gallaghers is the only steakhouse in New York City that grills its steaks over hickory coals. This combination of all-natural dry aging and hickory coals makes for a steak unlike any other found in New York.
GALLAGHERS STEAKHOUSE
228 West 52nd Street (between Broadway and 8th Avenue)
New York, NY 10019
212-586-5000
http://www.gallaghersnysteakhouse.com
###
If you'd like more information about this event, or to schedule an interview with BCNY, please call Helen Frank at 347.505.5416 or e-mail Helen at Helen(dot)Frank(at)bcny(dot)org.