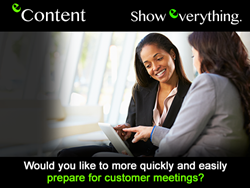 With eContent, businesspeople can use Salesforce and an iPad or iPhone to save time, stay organized, and make more sales.
Fairfield, NJ (PRWEB) May 29, 2014
Vision-e today announced that eContent, its Salesforce Content and Chatter file app, is available for free on the Apple App Store. With eContent and an iPhone or iPad, salespeople can securely download and keep synchronized all their important Salesforce Content and Chatter files. Supported file types include: Word, Excel, and PDF, as well as various image and movie files. After users download files to their iPads or iPhones, they can view them in eContent at any time, whether they have an internet connection or not. This app answers the challenge to making business collateral available to teams with version control.
Comments on the News
According to IDG Research, "Salespeople use 7 hours or more a week looking for information to help them prepare for sales calls." eContent helps salespeople use their time more effectively by allowing them to keep the latest versions of their important Content and Chatter files with them at all times, and making those files available always, whether they are online or offline.
Product Key Features
A free app for use on the iPad and iPhone, eContent allows users to securely access, and effortlessly keep synchronized, their important Salesforce Content and Chatter files. eContent's most notable features include:

eContent requires almost no configuration, as it detects all of the user's content automatically. All the user has to do during setup is to choose which items they want to have synchronized on their iPad. After that, eContent does all the work.
Always Up-to-Date Documents
The user's downloaded documents will always automatically stay synced with the latest versions available in their Salesforce instance.
Changing synchronized documents is a breeze. A few taps on the iPad and eContent replaces the old synchronization list with the new.
Wide Array of Supported Documents
eContent allows users to synchronize and view DOCX, XLSX, PDF, JPG, PNG, MOV, MPEG, MP3, WAV, and many other popular business file types.
Additional Resources
About the AppExchange
The Salesforce AppExchange is the world's leading business apps marketplace. With more than 1,800 partner apps and 1.7 million customer installs it is the most comprehensive source of social and mobile cloud apps for business. The Salesforce Platform is the world's most trusted and comprehensive cloud platform for building social and mobile cloud apps, powering Salesforce CRM, and more than 3 million custom apps built by customers and partners. Apps built on the Salesforce Platform can be easily distributed and marketed through salesforce.com's AppExchange.
Salesforce, AppExchange and others are trademarks of salesforce.com, inc.
About Vision-e
Vision-e, in alliance with Salesforce, is a leader in CRM implementations and productivity applications. Vision-e meets the emerging needs of customers by providing rapid CRM implementation, mobile and cloud computing technologies and external system integrations.
Vision-e has the experience and expertise to deliver fast and responsive Salesforce solutions so customers get the performance they expect.
From bakers to bankers, garages to GM, Vision-e creates affordable, effective, customized Salesforce solutions for any size business, with any size budget. Vision-e puts its customers first so they can put their customers first.
"Vision-e provides elegant, highly customizable solutions that help companies of all sizes get the most out of the Salesforce platform. Vision-e: it's Salesforce…extraordinary." ~ Jule Limoli, CEO, Vision-e
For more information on Vision-e, go to http://www.Visione.com or call 888-611-2679. Vision-e is headquartered in Fairfield, NJ.