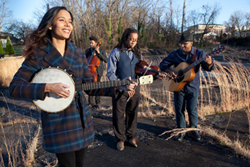 An appealing grab-bag of antique country, blues, jug band hits and gospel hollers, The Carolina Chocolate Drops are still the most electrifying acoustic act around.
Cleveland Heights, OH (PRWEB) May 31, 2014
Durham, North Carolina: home to Duke University, Genuine Bull Durham Smoking Tobacco and traditional African-string band sensations Carolina Chocolate Drops. This Grammy Award-winning foursome, whose song "Daughter's Lament" was featured on the soundtrack for the film The Hunger Games in 2012, will open the 2014 Cain Park concert season on Thursday, June 12 at 8 pm when they take the stage in the Evans Amphitheater.
Tickets for this concert are available for $20/25 in advance and $23/$28 the day of the show; they can be purchased via Ticketmaster (800-745-3000) or by calling the Cain Park ticket office (216-371-3000) beginning May 31. Cain Park is located at Lee Road and Superior Road in Cleveland Heights.
A free parking shuttle service is available for this concert made possible by Motorcars Honda/Toyota/Scion. The shuttle runs one hour before showtime (it will not run once the concert begins) and up to one hour after the concert ends. Those interested should park at Cleveland Heights City Hall (40 Severance Circle, 44118). Shuttle pick-up is in front of Cleveland Heights City Hall.
"CCD," as they are affectionately known, is made up of current members Rhiannon Giddens (classically-trained vocalist and Oberlin alum on 5-string banjo, fiddle, kazoo), Hubby Jenkins (guitar, mandolin, 5-string banjo, bones), Rowan Corbett (guitar, bones, snare drum, cajon, djembe) and cellist Malcom Parson. All of these multi-talented band-mates sing and trade instruments, and have passionately researched and learned these various types of banjos, (such as the five-string, plectrum and minstrel), bones, (yes—actual skeletal bones, and also wooden "bones", which are played like castanets), and even the kazoo with the skill and knowledge of a proper musicologist, theorist and technician.
The group learned much of their repertoire, which is guided by the traditions found in the Piedmont region of the Carolinas and freshly interpreted, from the eminent African American old-time fiddler Joe Thompson—but audiences will be surprised and delighted by old-timey versions of contemporary songs such as Blu Cantrell's R&B hit "Hit 'em Up Style (Oops!)."
The Carolina Chocolate Drops have shared stages with such noteworthy artists as Taj Mahal and, in 2011, Bob Dylan, who is another source of inspiration for the band. Performances on Garrison Keillor's A Prairie Home Companion, NPR's Fresh Air with Terry Gross, and a return to Tennessee's Bonnaroo Music Festival this month, as well as multiple appearances on Nashville's legendary Grand Ole Opry, keep the Drops' dance cards full.
With their 2010 Nonesuch Records debut, Genuine Negro Jig—which garnered a Best Traditional Folk Album Grammy—the Carolina Chocolate Drops proved that their beloved old-time, fiddle and banjo-based music could be a living, breathing, ever-evolving sound. Integral to their musical mission is highlighting the central role African-Americans played in shaping our nation's popular music from its beginnings more than a century ago.
Cain Park 2014 season sponsors include Cuyahoga Arts & Culture, Ohio Arts Council, Severance Town Center, Intercontinental Hotels – Cleveland, and Motorcars Honda/Toyota/Scion. This concert is made possible with the support of WKSU 89.7 FM.
Cain Park, a municipally owned and operated summer arts park, is one of the nation's oldest landmark outdoor theatres. 2014 marks Cain Park's 76th season. Cain Park is produced by the City of Cleveland Heights and is located on Superior Road between Lee and South Taylor roads.