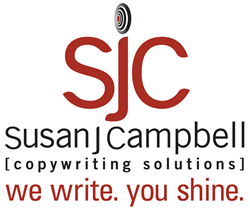 (PRWEB) May 30, 2014
Susan J. Campbell Copywriting Solutions has made a name for itself as a leading marketing firm in St. Joseph, MO. Their content creation and brand strategies have been helping clients grow their brands all over the country.
After increasing their client list by 700 percent in 2013, SJC launched a new website in May, 2014. This new site serves as a great avenue through which clients can learn about the company and what it offers for marketing and copywriting solutions.
The website features the firm's popular blog that sees thousands of monthly visitors, employee profiles and a comprehensive portfolio with an impressive collection of SJC's completed work.
Businesses and non-profit organizations will find marketing solutions on the site with descriptions about the many services SJC provides. Whether clients are in need of a total rebranding campaign, a social media launch, print materials or online content creation, SJC has the knowledge and tools to create unique strategies that fit their needs.
The new website features step-by-step explanations on how to get started with a new marketing campaign. Potential clients are encouraged to have a cup of coffee with one of the client acquisition team members and brainstorm ways SJC can create a customized marketing strategy that fits their unique needs.
"We wanted our website to convey the breadth and depth of the solutions we offer," said Susan J. Campbell, founder and CEO. "As each client's needs are different, every marketing campaign we create is going to be completely unique. That is why we like to start with meeting our clients face-to-face as a first step, to better understand their challenges and opportunities. This new site introduces the audience to our services, but it is really just the tip of iceberg of marketing solutions and branding that we are capable of creating."
Susan, who has over 20 years of experience in marketing and professional communications, founded the company in 2005 and has consistently grown the firm and nurtured its success. In 2013, after seeing significant growth in clientele, Susan expanded her personnel to create a well-rounded team of professional writers, project managers, social media experts and marketing specialists. The growth of the SJC team proves that the company's services are in high demand.
Whether the team is assisting businesses in rebranding their company or helping non-profits spread their mission to their community, SJC has helped generate revenue, increase reach to target audiences and optimize the marketing success for a number of local and national clients.
The new website was launched in the midst of intense company growth and at the perfect time to support the ramp up to SJC's 10th anniversary, which the team will celebrate in August, 2015.
About Susan J. Campbell Copywriting Solutions, LLC
As a full-service marketing communications and content company, SJC has impacted a wide range of small-to medium-sized businesses in commercial and non-profit sectors. It's all about hitting your target, and SJC does this by getting to know the client and the story they have to tell. Partnering with SJC involves collaborating to develop a strategy that supports the client's message. SJC knows the best channels to communicate the message, or call to action, to a larger audience. For more information, call 816-396-8575 or visit http://www.susanjcampbell.com.