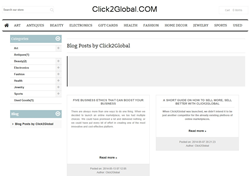 (PRWEB) May 31, 2014
Click2Global.com has recently launched its services as an innovative ecommerce solutions targeted towards small and mid size businesses striving to survive the online competition. Click2Global is designed as a multipurpose solutions that offers numerous services including a storefront to sell, a safe payment system, online/offline marketing, and telemarketing.
Explaining major factors that will distinguish Click2Global from other ecommerce solutions, the company's official statement is, "We conduct comprehensive market research to understand needs and demands of customers and areas where currently available solutions fail to fulfill them. Our objective was to come up with a well-rounded solution that is not only flexible but also very affordable. We are launching Click2Global only after we have ensured that it perfectly fits our objective."
While Click2Global is launched with a wide number of features and functionalities, it is based on a highly flexible structure. The solution is designed to allow inclusion of more features in the future. The expansion, according to Click2Global.com, will depend on changing demands, trends, and requirements of the clients and online business and marketing world.
Click2Global highlights the simplicity and ease of usage as another major distinguishing feature of the platform. The solution targets businesses and individuals who are not particularly tech savvy. "The learning curve is very smooth. It is literally nothing more than signing up and start selling through the storefront," Click2Global added.
Click2Global also brings a strong marketing aspect with it. Other than offering a platform to sell the product, the company will also provide both online and offline marketing services to its clients including a complete telemarketing solution. The company works with qualified marketing professionals who strive to generate maximum traffic and high quality leads for the sellers.
Click2Global sellers are only required to pay a small commission per sale. The company also excludes all types of listing fees, marketing fees, hosting fees, and storefront fees. With this cost-effective structure, the company aims to focus on small and midsized businesses. For more information, please visit the website http://www.click2global.com.
About Click2Global
Click2Global is a new name in online marketing and ecommerce industry. The company has launched comprehensive ecommerce solutions as their flagship product. It is a multipurpose seller vendor solution that incorporates extensive marketing features. The company targets small and midsized businesses by offering competitive rates and commission based structure.
For contact, please use the following details.
Contact Details
Web: http://www.CLICK2GLOBAL.COM
Email: INFO(at)CLICK2GLOBAL(dot)COM