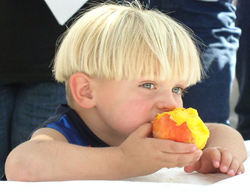 Grand Junction is such a special place in the summer with amazing festivals for food and wine lovers.
Grand Junction, CO (PRWEB) May 31, 2014
Though it's still snowing in parts of Colorado, Grand Junction is welcoming the start of summer. With days filled with sunshine and events happening every weekend, there are more reasons than ever to visit Grand Junction. Though concerts, festivals and other events are popping up faster than the wildflowers do, highlighting just a few of Grand Junction favorite fiestas.
Colorado Lavender Festival
July 11-13, 2014
Studding the Western Slope of Colorado like amethysts, find lavender farms from Paonia to Palisade and points in between. During the 4th Annual Colorado Lavender Festival, which takes place in downtown Palisade. Have the opportunity to tour the farms, but also to learn more about this fragrant herb through demonstrations, workshops and seminars. With free entertainment for the family and a gourmet meal prepared by local chefs (liberally spiked with lavender, of course), it's a sensory-filled weekend not to be missed.
Palisade Peach Festival
August 14 – 17, 2014
Perhaps Palisade's most famous festival, the Peach Festival is celebrating its 47th year this summer, highlighting the sweetest gems to be picked off of Palisade's storied trees. The weekend is filled with peach inspired products and, of course, peach-infused foods: pie, ice cream, preserves, salsa, brandy, wine and more. There might be a few simple peaches to enjoy, too. Other highlights of the weekend include the annual pancake breakfast (with peach syrup, of course) and the parade of the Peach Queen and the Town Grouch.
23rd Annual Colorado Mountain Winefest
September 18 - 21, 2014
The most beloved celebration of Colorado wine in the state, the Colorado Mountain Winefest brings together more than 45 Colorado wineries to Grand Junction to sip and celebrate award-winning wines in this growing industry. Start off the weekend right with the Tour de Vineyards, a 25-mile bike ride through Wine Country held just before the main event on Saturday. The weekend also includes food pairings held at local restaurants, a tour of the vineyards and more.
Palisade Bluegrass and Roots Music Festival
June 13 -15, 2014
Riverbend Park in Palisade once again hosts an amazing lineup of musical performances during the Bluegrass and Roots Festival. Set among the cottonwoods on the banks of the Colorado River with stunning views of Mt. Garfield, the Bookcliffs and the Grand Mesa, the only thing that might outshine the music is the setting. More than just concerts by some of the best traditional and contemporary Americana musicians, PB&R is a three-day festival that showcases the joys of the Grand Valley, with music workshops and jam sessions, yoga, guided hikes and bike rides and an opportunity to sample local wines, craft beers and other regional artisanal goods.
Colorado Riverfront Concert Series
June 12, July 17 and August 14, 2014
Taking place at the Fruita section of the James M. Robb-Colorado River State Park, the Riverfront Concert Series will bring three world-class acts to the banks of the Colorado River. Featuring performances by Tab Benoit, the Freddy Jones Band and the Subdudes, respectively, these shows provide an opportunity to hear amazing music in a venue that is unlike any other. Bring in your lawn chair and food; leave the outside beverages at home.
Western Colorado Classic Auto Event
August 30 – 31, 2014
Whether you're a collector, competitor or just an admirer, Canyon Park in Grand Junction is a gathering place for gear heads this Labor Day Weekend. With more than 250 classic autos ranging from sports cars to hot rods, trucks, motorcycles and specialty vehicles, there's a wide variety to admire. But these autos are there for more than just admiring glances: there are 33 classes with a "Best of" award for each class.
From oenophiles to gear heads, there's something for everyone this summer in Grand Junction. Check out http://www.visitgrandjunction.com for a full list of events and more resources to plan your trip.
Grand Junction
Nestled near 11,000-foot Grand Mesa and the 7,500-foot Book Cliffs, Grand Junction is the largest city in western Colorado. At an altitude of 4,586 feet, warm summers and moderate spring, fall and winter seasons allow for year-round golfing, hiking and biking. Boasting more than 275 days of sunshine annually, Grand Junction has been named one of the eight sunniest cities in the United States by TourismReview.com. Among Grand Junction's spectacular red cliffs and winding canyons are the Grand Mesa, the world's largest flat-topped mountain, the Colorado National Monument, Bookcliff Wild Horse Area, two national scenic byways and five golf courses. Grand Junction lies in the heart of the Colorado-Utah Dinosaur Diamond. The area also is home to Colorado's wine country, with nearly 30 vineyards and wineries.