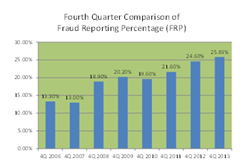 Atlanta, Georgia (PRWEB) May 29, 2014
The Network, Inc., a leading provider of governance, risk and compliance (GRC) solutions, and BDO Consulting, a leading provider of Financial Advisory, Business Advisory and Technology Services worldwide, announced today the fourth quarter 2013 findings of their Quarterly Corporate Fraud Index, a comprehensive examination of fraud reporting activity from almost 15 million employees across the world.
According to the report, the Fraud Reporting Percentage (FRP) in the fourth quarter of 2013 reached a record-high of 25.83 percent, outpacing the previous high of 25 percent during Q3 2012. The FRP statistic measures fraud reporting in comparison to all compliance reporting activity from more than 1,400 organizations worldwide, including nearly half of the Fortune 500. The 25.83 percent FRP represents a five percent increase from the same time in 2012, when it stood at 24.6 percent.
"Fraud continues to be a huge risk in the workplace, and while it is concerning to see fraud growing as a percentage of all compliance issues, it's reassuring that these incidents are being caught and reported," Luis Ramos, CEO of The Network, said. "Organizations continue to implement more effective training and policy management programs in order to create a 'speak-up' culture where employees recognize fraudulent activity and know how to properly report it."
The Network report also includes Fraud Related Incidents (FRI) data, which measures the volume of fraud-related calls. Fourth quarter statistics showed fraud incidents to be highest in October (3,441 incidents) and slightly lower in November (2,869) and December (2,828). The total of 9,138 fraud incidents is also a record high. It marks a 14 percent increase over the fourth quarter of 2012, when 8,018 incidents were reported.
Fourth quarter comparisons of FRP over the past eight years exemplify the upward trend.
4Q 2006 = 13.3%
4Q 2007 = 13.0%
4Q 2008 = 18.9%
4Q 2009 = 20.2%
4Q 2010 = 19.6%
4Q 2011 = 21.6%
4Q 2012 = 24.6%
4Q 2013 = 25.83%
The same trend can be seen in the total number of Fraud Related Incidents (FRI) each quarter
4Q 2006 = 3937
4Q 2007 = 4478
4Q 2008 = 5392
4Q 2009 = 5804
4Q 2010 = 5915
4Q 2011 = 6816
4Q 2012 = 8018
4Q 2013 = 9138
"As evidenced by The Network survey, there continues to be an increase in reported fraud incidents, which is consistent with the increasing volume of notable transgressions we are seeing in our investigative practice. Common incidents include FCPA violations, Ponzi schemes, as well as financial reporting, procurement and healthcare fraud. We continue to help organizations prepare for and identify financial-related fraud through comprehensive risk assessments, fraud control implementation and testing, investigative due diligence and targeted investigations. The company hotline remains one of the most effective tools for combating financial fraud, both domestically and internationally, and we encourage organizations to establish robust reporting lines, including audit committee oversight," said Glenn Pomerantz, a Certified Fraud Examiner and BDO Consulting's Global Forensics Practice Leader.
The Quarterly Corporate Fraud Index is compiled from actual incidents reported by clients of The Network and is analyzed by The Network and BDO Consulting. Fraud-related incidents reflected in the Fraud Index include reports on corruption, theft, misuse of assets, conflicts of interest, and violations of FCPA, UK anti-bribery and SEC legislation, among others.