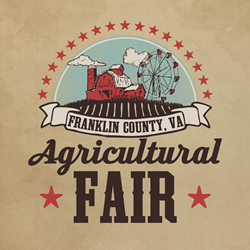 Franklin County, Va. (PRWEB) May 29, 2014
Along with the rousing rides of the Brinkley Entertainment, Inc. midway, the Franklin County Agricultural Fair will feature All-American Petting Zoo and Pony Rides, the Dialed Action Sports Team BMX Stunt Show and the Hubba Bubba Clown Show, Sept. 10-13 at Franklin County Recreation Park in Rocky Mount.
The family-friendly event also will include an array of local exhibits and demonstrations including Franklin County Public Schools, who will host SkillsUSA competitions and Franklin County High School Agricultural Exhibits; the Blue Ridge Mountain Garden Tractor Pullers, who will host a lawnmower pull event; and the Virginia Cooperative Extension, who is working with local 4-H youth to present a livestock show.
The fairgrounds and midway will be open Wednesday-Thursday, Sept. 10-11 from 5 p.m.-10 p.m. and on Friday, Sept. 12 from 4 p.m.-11 p.m. On Saturday, Sept. 13, the 4-H Livestock Show will be from 10 a.m.-2 p.m., the Blue Ridge Mountain Garden Tractor Pullers' Lawnmower Pull event will start at 11 a.m. and the midway will open at noon, with the fairgrounds closing at 11 p.m.
ABOUT THE ATTRACTIONS & EXHIBITS

The thrilling Brinkley Entertainment, Inc. midway will include 12 mechanical rides, a 50-foot Ferris wheel and numerous games.
With the help of All-American Petting Zoo & Pony Rides, learn about your favorite animals – farm-related and exotic – including such species as dairy cows, baby sheep, baby goats, donkeys, llamas, exotic cows, zebras and much more. http://www.allamericanpettingzoo.webs.com
Don't miss the Dialed Action Sports Team and its stunning launch ramp BMX shows, which feature a high-energy team of professional riders performing some of the biggest tricks in the sport of BMX such as back flips, super-mans, 360's and countless others.
Get ready for the laugh-out-loud comedy, amazing magic, juggling fun and more of the Hubba Bubba Clown Show. The stage show is full of audience participation and the strolling act is uniquely clever.
SkillsUSA involves an applied method of instruction for preparing young adults for work in public career and technical programs. Competitions will include challenges in masonry, electricity, building trades, automotive and more. Organized and hosted by local students, FCHS Agricultural Exhibits will feature 10 exhibits with the goal of educating youth on the importance of various aspects of the agriculture industry.
Blue Ridge Mountain Garden Tractor Pullers, of Franklin County, have offered family-friendly entertainment since the group was founded in 2005.
The 4-H Livestock Show will feature farm animals presented by local youth.
More information available online. Follow @FCAgFair on Twitter and visit/like Facebook.com/FCAgFair.