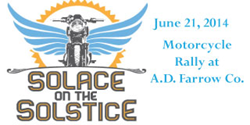 Columbus, OH (PRWEB) May 29, 2014
Ohio's death rate due to unintentional drug poisonings increased 372 percent from 1999 to 2010, and the increase in deaths has been driven largely by prescription drug overdoses. On average, one person in Ohio dies from a drug overdose every five hours. In fact, drug overdoses have now surpassed traffic crashes as the leading cause of unintentional death. Therefore, on Saturday, June 21st, kickstands will rise across the state of Ohio for the Solace on the Solstice motorcycle rally, in an effort to raise awareness about the dangers of prescription drug abuse and stop this deadly epidemic in its tracks.
Motorcycle riders will begin their journeys in local communities throughout the state, then like the spokes of a wheel, come together in Central Ohio for a rally at A.D. Farrow Co. There will be fabulous food, exciting musical entertainment, fun games and activities for all ages, and a chance to win a brand-new Harley! Mixed in with the fun and entertainment will be important opportunities to learn about preventing and treating prescription drug abuse. Along with educational exhibitors from around the state, families who have lost loved ones to opiate misuse will be speaking out so that other families will not know the tragedy brought about by misusing and abusing prescription drugs.
No motorcycle, no problem! Regardless of how folks get there, the rally welcomes families and individuals of all ages. While there is still work to do, Drug Free Action Alliance and its regional partners Coalition for a Drug-Free Greater Cincinnati (Cincinnati), Cole's Warriors/Family and Youth Initiatives (Springfield), SOLACE (Portsmouth) want to celebrate the great strides that have been made thus far in communities throughout Ohio.
The cost to participate in the motorcycle rally is $20 per rider, $10 per passenger (participants will receive an event T-shirt and lunch at A.D. Farrow Co.). There is no cost to attend the event at A.D. Farrow Co. All funds raised through Solace on the Solstice will support substance abuse prevention efforts. For more information, visit DrugFreeActionAlliance.org.
Drug-Free Action Alliance is a non-profit organization providing leadership to promote safe and drug-free communities throughout Ohio. Programs and initiatives include The GAP Network, Know!, Ohio Center for Coalition Excellence, Ohio College Initiative to Reduce High Risk Drinking, BUZZKILL, Ohio Youth-Led Prevention Network, Ohio Youth Philanthropy Council and Parents Who Host, Lose The Most. Please visit http://www.DrugFreeActionAlliance.org for more information.
Drug Free Action Alliance wishes to recognize and thank Solace on the Solstice Founding Sponsor A.D. Farrow Co.