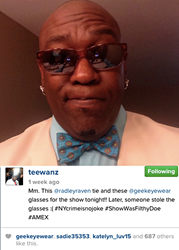 That's What's Going On ;-)
Los Angeles, California (PRWEB) May 30, 2014
American songwriter and singer Wanz joined the world famous duo Macklemore and Ryan Lewis to create the international hit "Thrift Shop." The song zoomed to number one but Wanz just got his sunglasses stolen. Wanz's Instagram says, "someone stole the glasses :(".
Not just any pair of eyewear, these are Wanz' favorite pair of GEEK EYEWEAR®. It's no surprise people covet our glasses, reports Alena Lehrer, founder and creator of GEEK EYEWEAR®. "GEEK EYEWEAR® is worn by everyone from NBA stars, to world welter weight boxing champions… from Hollywood A-List actors to tech nerds in Silicon Valley."
One of the most fashionable men on stage in the music business, Wanz has a 5 track solo EP called Wander, and he will have a NEW single out in the next few weeks!! Wanz is also planning a book due out by fall about a series of sayings he has coined over the years, to be called #TheBookOfWanz. "There. That's what's goin on ;-)," said Wanz.
About GEEK Eyewear®
GEEK Eyewear® celebrates diversity, individuality, and creative enthusiasm of Geek culture. Geek Eyewear seeks to create a global community for people who are willing to share their geek ideas, skills, passion, and fashions with others. Geek Eyewear® donates a pair of glasses to someone in need for every pair of eyeglasses/sunglasses sold with the "I'm in, give a pair!" campaign. For more information visit http://www.GeekEyewear.com.