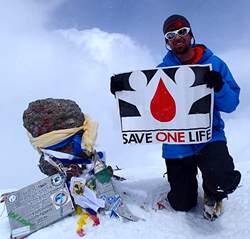 Our world is an amazing place, and I don't want people with hemophilia to think they have to live in a bubble.
Georgetown, MA (PRWEB) June 02, 2014
Mt. Kilimanjaro. Mt. Elbrus. Mt. Aconcagua. What do these mountains have in common? Each is the highest peak on their respective continent: Africa, Europe and South America, and each has been summited by Chris Bombardier, a 28-year-old from Denver, Colorado whose goal is to become the first person with hemophilia to climb the highest peak on each continent.
Hemophilia is a rare genetic disorder that prevents blood from forming an effective clot. Untreated bleeds from internal or external injuries can lead to painful joint deformities, crippling, brain damage and possibly death. Chris was diagnosed with severe hemophilia B at birth.
On June 23 Chris will undertake his most technical climb yet--up massive Mt. McKinley, the highest peak in North America. Also known by its Native American name, Denali's elevation is 20,322 feet; its base-to-peak rise of 18,000 feet is considered the biggest of any peak located entirely above sea level.
Life as a person with hemophilia is not easy, but Chris is fortunate to live in a country where treatment is readily available. Chris is climbing the Seven Summits to help raise awareness for hemophilia and funds for his favorite charity, Save One Life.
Chris became interested in Save One Life after attending a talk given by its founder, Laurie Kelley, the mother of a child with hemophilia and author of several books on bleeding disorders. "Laurie opened my eyes to how challenging it is for others to live with this disorder when they also live in poverty, and mainly how lucky I am," he observes. Now, after visiting and working with people with bleeding disorders in a developing country, Chris has personally witnessed the great difficulties of living with hemophilia in these places. "My time with the hemophilia community in Kenya made me realize how important Save One Life sponsorships and scholarships are to people. I want to help Save One Life continue its amazing programs and hopefully expand to other parts of the world."
Chris started climbing after moving to Colorado. He fell in love with the sport, noting that climbing mostly requires "just experience and the will to push yourself and your body farther than most people will go."
Chris makes it sound simple, but he has encountered challenges on his climbs. Mt. Aconcagua was the most physically draining climb: he remembers having to overcome an extreme level of exhaustion. "Final ascents can often take over eight hours, and the altitude of Aconcagua made the climb all the more difficult," he notes. "I felt like I could sleep for days and days!" Chris also thought that infusing factor, the medicine that helps his blood to clot, would be challenging on the trail, but thankfully it has not been an issue. Although Aconcagua was the most difficult, it is also his favorite to date. "Having to work harder to climb the mountain makes reaching the summit more gratifying!"
Chris declares, "Of course I look forward to standing on the summits of these incredible mountains and feeling the accomplishment of doing it with hemophilia. I want to show young people with hemophilia what's possible. Our world is an amazing place, and I don't want people with hemophilia to think they have to live in a bubble. I want them to get out and experience life to the fullest!" But, more importantly, Chris is committed to spreading the word about hemophilia and raising people's awareness of the huge disparity in care that exists in the world.
The Denali Quest is sponsored by ASD Healthcare, BDI Pharma and Reliance Factor of America. To learn more about Chris's climb and goal to raise $30,000 for Save One Life, visit http://www.SaveOneLife.net.