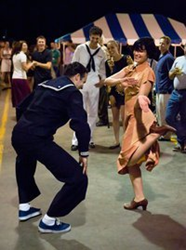 Rochester, MN (PRWEB) May 29, 2014
The Scott Hosier Veterans Round Table and the Minnesota Veterans and Emergency Services Museum Committee are proud to present the Rochester Hangar Dance on June 21, 2014 located in Hangar C, General Aviation, Rochester International Airport, 7300 Brataas Drive SW. We welcome all to come and re-live a WWII swing dance. Enjoy the sounds of a live big band, take advantage of a free swing dance lesson, and view vintage military, fire, and police vehicles and more. Planes in attendance include the Commemorative Air Force Minnesota Wing's B-25 Miss Mitchell, BT-13, L-5 and PT-22. Food and a cash bar will be available. Vintage clothing is encouraged and 1940's celebrity impressions and re-enactors are welcome. Come out starting at 10 a.m. to view the aircraft and visit the displays. Aircraft rides will be available for purchase. The doors open for the dance at 6:00 p.m. and span to 11:30. Tickets can be purchased in advance online at http://www.mvesm.com for $20.00 per person, or purchased at the door for $23.00.
The Commemorative Air Force Minnesota Wing was formed in 1971. The Minnesota Wing was the first charter unit of the national headquarters wing of the Commemorative Air Force and originally operated as a maintenance support arm to help the CAF's mission. Today, the Commemorative Air Force Minnesota Wing is home to six aircraft, a large motor pool fleet, and a unique collection of World War II artifacts currently on display. For more information, visit http://www.cafmn.org.
The Commemorative Air Force ranks as one of the largest private air forces in the world. The CAF is dedicated to Honoring American Military Aviation through flight, exhibition and remembrance. A non-profit educational association the CAF has more than 8,000 members and a fleet of over 150 airplanes throughout the country. The mission of the Commemorative Air Force is to honor the men and women who built, maintained and flew in these airplanes during the World War II. The organization believes that mission is best accomplished by maintaining the airplanes in flying condition and by taking the airplanes to the public and allowing them to experience the wonder of the aircraft in flight. For more information on the CAF, visit http://www.commemorativeairforce.org.