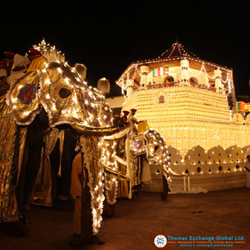 South Asia is full of culture, adventure and excitement. Travelling across the subcontinent will be a wonderful experience for British travellers
(PRWEB UK) 9 June 2014
The most extravagant of all ritualistic ceremonies, the annual 15 day street festival of "Esala Perahara" is a spectacle of over hundred elephants and thousands of dancers, drummers and fire acrobats that takes place in July in the beautiful hill capital city of Kandy, as reported by CNN. It further reported that, "Elephants make their way down the parade route with beautifully embroidered robes complete with a lit headdress. Each elephant is preceded by its own contingent of performers. It's truly a spectacle to see"
This year's festival will commence on 27th of July and will continue till 11th of August. "South Asia is full of culture, adventure and excitement. Travelling across the subcontinent will be a wonderful experience for British travellers," stated Trevor Samuel, the Marketing Manager, Thomas Exchange Global.
Thomas Exchange Global is geared up to offer the best exchange rates for Indian Rupees, Sri Lankan Rupees and other South Asian currencies during this summer and the most competitive US Dollar exchange rates for visitors heading to the Maldives. The company also stocks over 120 types of foreign currencies whereas no waiting time is required to buy most of them.
"As the Pound Sterling strengthened compared many international currencies during the last couple of weeks, British Tourists buying theses currencies will get extra travel money for their Pounds," said Trevor.
About Thomas Exchange Global Ltd
As dedicated foreign exchange specialists, Thomas Exchange Global has the professional expertise, in depth market knowledge, technological infrastructure and commitment to provide an unprecedented level of service that sets the standard in the foreign exchange industry. They are specialists in all areas of foreign exchange. They provide commission free currency as well as travellers cheques.
Thomas Exchange Global also offers International Money Transfer Service where funds can be remitted to overseas bank accounts within 1 to 2 days. With commission free service for transfers over £10,000 backed by competitive exchange rates, customers are assured of a better deal and a substantial saving compared to banks and money brokers.
Thomas Exchange Global branches are located at Strand, Victoria Street, Liverpool Street, Hammersmith, Cannon Street and Wormwood Street.
For further details, visit http://www.thomasexchangeglobal.co.uk or call 020 7240 1214.